New Windows 10 Insider Preview Build 14971 is out for Windows Insiders. It brings some innovative features that are likely to be incorporated in the upcoming Creators Update to be released in early 2017.
Windows 10 Insider Preview Build 14971
The build marks the continuation of its weekly update schedule. It intends to improve your reading experience with Electronic Publication format (EPUB file format). The format will allow you to read unprotected Ebook in Edge browser without hassles. Moreover, you can choose between different themes, change the font and text size or search for words/phrases using Cortana.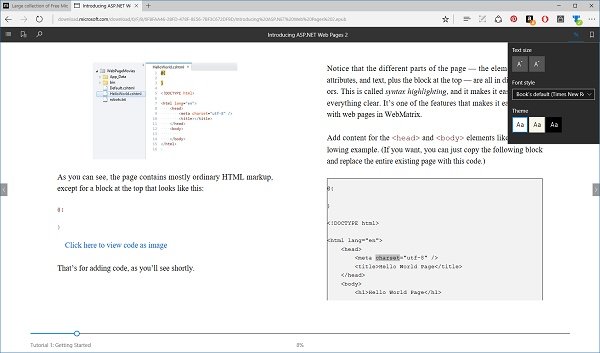 Beginning with this build, the Paint 3D Preview app will be made as an integral part of Windows 10. Opening Paint from Start will now direct you automatically to the Paint 3D Preview app. Currently, Paint 3D Preview is only available in English.
It replaces Command Prompt that appears in the WIN + X and other menus that appear when you shift-right-click the whitespace in File Explorer will be replaced by Powershell. This means, PowerShell will become the defacto command shell from File Explorer and will continue to remain a quick way to launch the command shell at that location.
Apart from the above, the new build also brings some minor changes to the Office applications and other Windows 10 components like the removal of the Snooze option. A solution to completely remove files from the Windows.old folder using Disk Cleanup. Earlier, a minor glitch resulted in an inability to completely remove files from the folder.
Also, issue related to the copy link option where right-clicking a hyperlink in Microsoft Edge failed to respond has been resolved. The problem where pinned tabs in Microsoft Edge were not restored too has been fixed.
Microsoft has also made important translation improvements by fixing some translation error in the dialog that appears when installing multiple fonts at once. For a complete list of changes and improvements, see this blog post.