As the day of Windows 10 availability on July 29th nears, Microsoft announced today some of the important changes that are coming with the next Windows 10 PC build.
It seems Microsoft has updated its blog post and made these changes to that para of the blog post related to Free Windows 10 upgrade to registered Windows Insiders, now it adds the following line:
It's important to note that only people running Genuine Windows 7 or Windows 8.1 can upgrade to Windows 10 as part of the free upgrade offer.
Windows Insider program and Microsoft Account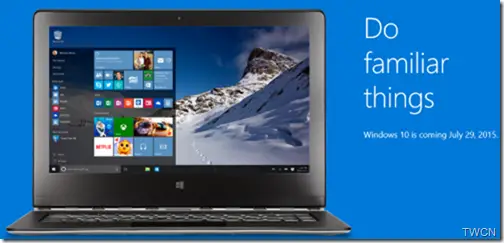 If you have not connected your Microsoft Account (MSA) to your PC running the Preview Build then from the next build, you'll start getting notifications asking you to connect. So one has to connect the MSA that one has used to register for the Insider Preview program else will not get the new builds of Windows 10 Insider Preview,be it Fast or Slow ring from Windows Update.
Please note that the above change is ONLY for the Windows Insider Program.
You DO NOT NEED an MSA to upgrade to Windows 10 on your Windows 7 or Windows 8.1 PCs if they are not receiving Insider Preview builds.
You will not be required to use an MSA on new PCs that come with Windows 10 preinstalled or clean installed from media.
Windows 10 Insiders will get Final release build FREE
I think this is significant, so if you want to get Windows 10 RTM for free, you should be running Insider Preview build with MSA. This is what Microsoft said:
Windows Insiders running the Windows 10 Insider Preview (Home and Pro editions) with their registered MSA connected to their PC will receive the final release build of Windows 10 starting on July 29th. This will come as just another flight. I've gotten a lot of questions from Windows Insiders about how this will work if they clean installed from ISO. As long as you are running an Insider Preview build and connected with the MSA you used to register, you will receive the Windows 10 final release build and remain activated. Once you have successfully installed this build and activated, you will also be able to clean install on that PC from final media if you want to start over fresh.
If you are running the Enterprise edition of the Windows 10 Insider Preview, to upgrade to the final release of Windows 10 Enterprise you will need to download and activate it from Volume Licensing Service Center. As a reminder, the Enterprise edition of the Windows 10 Insider Preview is not eligible for the free upgrade offer and can be upgraded to the final release of Windows 10 through an active Software Assurance agreement.
Apart from that Microsoft said Windows Insider Program will continue even after Windows 10 release on July 29th. Insiders will continue to receive future flights as work on next release starts immediately.
One can continue to get updates, fixes, new features and can continue to provide feedback. If one doesn't want to continue in the program, will be provided an option to leave.
Insider Hub to be removed
As Microsoft prepares for the final release, its not pre-installing Insider Hub. But Windows Insiders can reinstall the Insider Hub app by going to
Settings > System > Apps & features then Click Manage optional features then Add a feature, Select the Insider Hub entry (the list is in alphabetical order) and click Install.
This has to be done for each build to be released before Final. But once post July 29th as new builds start again, it'll be pre-installed again.
Microsoft Edge in next build
So from next build, the Windows Insiders in the Fast ring will get Microsoft Edge, so the Project Spartan now changes to Microsoft Edge. So if one has saved any favorite cookies, history, reading lists in Spartan will be lost in Edge. If you want to keep them, then you will need to back up your favorites before the next flight. Here's how to do this:
Copy your favorites from %localappdata%/Packages/Microsoft.Windows.Spartan_cw5n1h2txyewy/AC/ Spartan/User/Default/Favorites.
Save them to %userprofile%/Favorites.
After upgrading to the next build open Microsoft Edge, choose Settings, and you'll see an option to import favorites from another browser. Choose Internet Explorer to import the favorites you saved in your %userprofile% directory into Microsoft Edge.
These are some of the important changes announced by Microsoft which are to be noted before the next build arrives.