Managing multiple tasks simultaneously requires skills and innovation. New features rolled out for Windows 10 Mail and Calendar app have been specifically designed to serve this purpose. Among other changes, the biggest addition comes in the form of Focused Inbox, a feature that was first available on Outlook for iOS and Android.
All the new features mentioned in the announcement, claims to introduce many architectural improvements that enable enhanced performance and faster innovation.
Focused Inbox in Outlook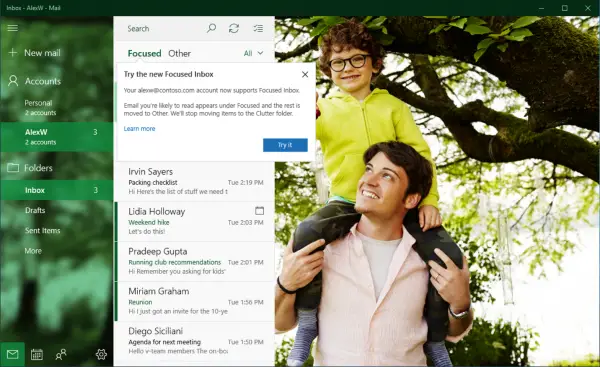 Focused Inbox helps you focus on the emails that matter most to you. It separates your inbox into two tabs—
Focused
Other
As the name suggests, Focused tab – manages your most important emails to make them easily accessible. When any mail moves out from here you'll be informed about email flowing to Other, and offered an option to easily switch between tabs at any time.
Other features in the list include:
Mentions
It is an update picked up for Outlook Mail for Windows 10 that will assist users in taking quick actions from a new email notification without having to actually open the email. Besides, the notifications will have an interactive display that will show the following buttons to enable you take a definitive course of action.
Interesting Calendars
It is a new feature that lets you follow favorite events and schedules. The feature is powered by Bing.
Summary cards
Just another addition to calendar app! It will enable users quickly access their package details or travel reservations.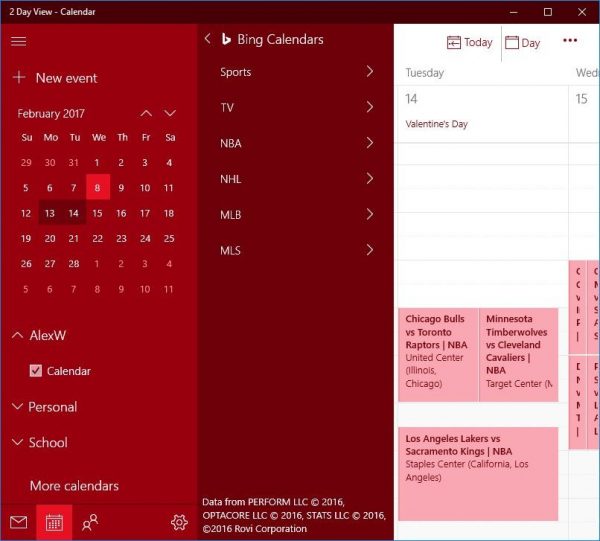 Calendar invites
The ingenious feature displays location suggestions from Bing and lets you add them to the calendar. Also, it features a scheduling assistant for Office 365 accounts to help you quickly browse and select contacts and create a calendar appointment in an instant.
All these features come ahead of the release of Windows 10 Creators Update. To see details, visit Windows Blog.