Right from its birth at the hands of Bill Gates to the latest change in leadership under Satya Nadella, Microsoft has come far in 29 years of its evolution period. Its popular operating system – Windows has shown a dominating presence since it's debut in 1985. Despite slight loss in market share in recent years, Windows has remained the front runner with a towering share and its competitors trailing as a distant second. Most reports reveal, the latest version of the OS – Windows 10 continues to remain as the #1 Desktop OS worldwide.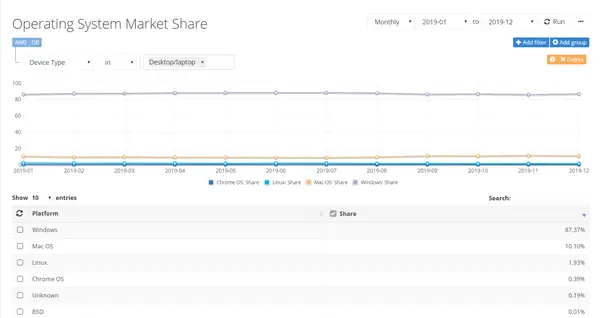 Windows 10 continues as the #1 Desktop OS
NET MARKETSHARE, a website that provides statistics of Internet technologies revealed Windows 10, the OS that Microsoft officially rolled out to the public in mid-2015 continues to top the Desktop platform graph in 2019. Besides, it has managed to overtake its predecessor Windows 7. The beginning was a moderate start with 40.90% market share before dropping marginally by 30 points in the following month. Later, the OS saw a steep rise to reach a market share of 54.30% in November. Finally, it ended the year 2019 with a record of 54.62%.
The steady rise in some way can be attributed to the decline of the Windows 7 market share, owing to the approach of its end of support date, set for January 14. With less than a few weeks that were left for the year to end, it was unlikely to see the market share of Windows 7 going upwards.
Having said that, the journey for Windows 10 wasn't a smooth affair. Ever since its initial release, the OS faced several issues. Users had reported a wide array of issues ranging from Bluetooth connectivity problems to intermittent Wi-Fi connections and failing applications. However, with the passage of time, the service improved, and the rest of the operating systems started trailing by a sizable margin. The widening gap showed that the competitors posed no threat to the dominance of Windows 10.
Microsoft's Windows operating system was first introduced in 1985. Windows 1.0 was the company's first true attempt at a graphical user interface in 16-bit. Windows 10, the latest iteration continues to progress with a host of constant updates.
For more information, visit NetMarketshare website.