Microsoft has released Windows 10 Mobile Insider Preview Build 14322 for Windows Insiders in the Fast ring.  Except Lumia 635, these devices listed by Microsoft will be capable of receiving updates as part of Windows Insider program. Lumia 635 will be added later. Apart from fixing many issues, this build 14322 has lots of improvements and new things.
What's new in Windows 10 Mobile Build 14322:
Action Center and Notifications improved:
More space in Action Center with visual changes: App icon in individual app notification will not be repeated for each notification. App icon will only be seen in the header that groups together all notifications specific for that app. This will allow more space in Action center. 

Notifications gets some visual changes: notifications with more flexible layouts similar to the richness of Live Tiles will be supported. Notifications with images will have larger display.. 

Cortana notification in Action Center: added new insights from Cortana ensuring one doesn't miss anything important.

Notification prioritization in Action Center: One can now prioritize which app notifications are more important and set them to be Normal, High, or Top. One can also adjust how many notifications are visible per app. This can be set from Settings > System > Notifications & actions

Customize Quick Actions in Action Center: One can now add, remove and re-arrange the Quick Actions that show up in Action Center. With a simple press and hold you can move the Quick Actions to the place where you want them to be. One can also turn on or off the available Quick Actions. 
Improvements to Cortana:
More ways to create reminders: 2 new exciting ways provided to create reminders.

Create a photo reminder can be now created by taking a picture of something you want to be reminded about.

You can also now set reminders on content from UWP apps that utilize the share contract in Windows, like Microsoft Edge and the News app.  Even works with photos from your collection in the Photos app
Settings app updated
Individual icons: Now all pages in Settings app have individual icons and these icons will also be shown when pinned to Start. A dropdown flyout with page suggestions will also appear as you type into Search box.

Navigation bar and vibration Settings: Now a page created for the navigation bar at Settings > Personalization > Navigation bar. Here one can set preferences for vibration and double tap navigation bar to turn off screen.

Glance Screen settings shifted: To make it more user friendly, Glance screen options have been simplified and moved out of Extras section. Now its at Settings > Personalization > Glance screen. Also with this change, Glance settings no longer need to be downloaded or updated from the Store.

Battery settings updated: Now there's single entry point for all battery related settings including Battery Saver. Now one can also adjust the percentage in which Battery Saver turns on. This is being re-implemented.

Windows Update settings updated: You can now also set the time in which you are most active on your phone just

like on your PC

by adjusting

active hours

under Settings > Update & security > Windows Update. During Active Hours, Windows Update will avoid automatically installing updates.
New emoji: New emoji are added in this build. Emoji section of the keyboard reorganized. Now arranged as: Favorites, Smileys and Animals, People, Celebrations and Objects, Food and Plants, Transportation and Places, Symbols, and ASCII emoticons.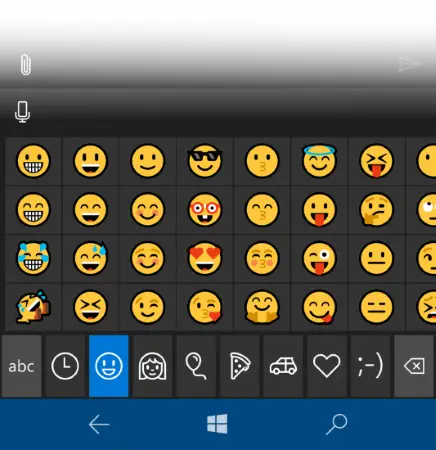 Microsoft Edge improved:
Better copy/paste: Now will be able to use the paste button above the keyboard when typing into an edit box in a web page.

Better tab behavior: If you tap on a link in an app that opens a new tab in Microsoft Edge, pressing the back button when you're done will close that tab and take you back to app. Tab list stays lean and relevant by smartly closing tabs when done.
USB Ethernet support for Continuum capable phones:
Continuum-capable phones now include support for most USB Ethernet adapters when connected via MS Display Dock.

Might see error message when connected for first time. Its just message while, nothing wrong with adapter. Message will be removed in future update.

Not all adapters supported yet.

No visual indicator to indicate that you are connected. To check turn off Wi-Fi and cellular data.

Windows 10 Mobile supports proxy configuration for Wi-Fi and VPN connections. Proxy support for LAN will be available in future.
Lock Screen improvements:
Camera Button on Lock screen : The back button on Navigation bar is replaced with a camera button when the phone is locked. Just press and hold this button to launch the Camera from lock screen.

Media controls button show on Lock screen: One can control the music right from the lock screen. Media controls will be shown right on top of lock screen.
Comments in feedback hub : One can add comments apart from up-voting on the feedback inside the feedback hub just like on PC.
Messaging everywhere preview: Preview of "Messaging everywhere" feature in Windows 10 that allows you to send and receive text messages from your phone directly from your Windows 10 PC's. Option for this feature in Messaging app will be in PC not on mobile. This feature is coming soon.
What's fixed in Build 14322
User dictionaries containing incorrect words are reset. If one has doubt that dictionary is interfering in efficient typing, one can always manually clean it by going to Settings > Privacy > Speech, Inking and Typing and select "Stop getting to know me", "Turn off", "Start getting to know me", "Turn on".

Screen flickering while watching full screen video issue fixed.

Tuned the alarm volume ramp up for alarms using your music. Now it will get louder faster.

Updated the reminder and alert notification logic. If you answer a call while at least one notification is visible, you no longer need to dismiss that notifications before being able to end the call.

Issue of quitting Netflix playback if volume control is pressed is fixed.

Chinese Input Method Editor users would lose their typing history is fixed

Issue of getting stuck after exiting Continuum while swiping from Start to the All Apps list is fixed

Issue where music would sometimes stop playing a few minutes after the device had been locked or the screen had been turned off is fixed

Issue resulting in the keyboard dismissing when you tapped the first key after having interacted with the app bar is fixed.

Issue where trying to delete and re-type an auto-correction would result in it getting auto-corrected again is fixed.

Issue where locking and unlocking the phone quickly with Action Center open could result in Start being stuck on resuming is fixed.

Issue where the keyboard would sometimes show all black when responding to a text in the Action Center above the Lock screen is fixed.

Issue where users with their Lock screen set to Bing would just see the default Windows 10 background is fixed

Issue resulting a missing Windows logo above the Start screen in the Task Switcher is fixed.

Issue where phone call could stop ringing if interrupted by an SMS notification is fixed.

Issue where the app name on the Start tile could be truncated even though there's space available to display it is fixed.

Issue where volume control would continue to show headphones volume after headphones had been disconnected is fixed.

Notification text in banners and Action center will now grow larger when the Ease of Access "Text Scaling" option is enabled.
Known issues in Build 14322
Language and speech packs are unable to be downloaded due to backend issues.

Camera app may crash while going to Camera roll.

May see duplicate apps under All apps showing as pending despite being installed and usable on your phone.

May see square boxes in certain apps when using some of the new emoji

might get in a state where neither space or enter are working on the keyboard. Workaround : pressing and holding one of the apps in the All apps list until a context menu appears may resolve the issue else reboot.

A bug preventing Tweetium from launching.

Facebook Messenger will fail to launch from Start or All apps. Workaround:  open Facebook Messenger via the Facebook app or from Cortana or tap on notifications from Facebook Messenger. This bug also impacts WeChat, Transfer My Data, and UC Browser.

If you use the power button to lock/unlock a phone quickly, your phone's screen may not turn on and become unresponsive. Windows Hello will stop working to unlock your phone. Workaround: Hard reboot. This will be fixed as soon as possible.
Announcing this new build, Gabe Aul thanked the users for the feedback and also requested to continue to provide the feedback.