Microsoft will be launching a free update in early 2017, dubbed Windows 10 Creators Update. The update will enable users instantly connect and share content with people who matter most to them via a simple feature called MyPeople.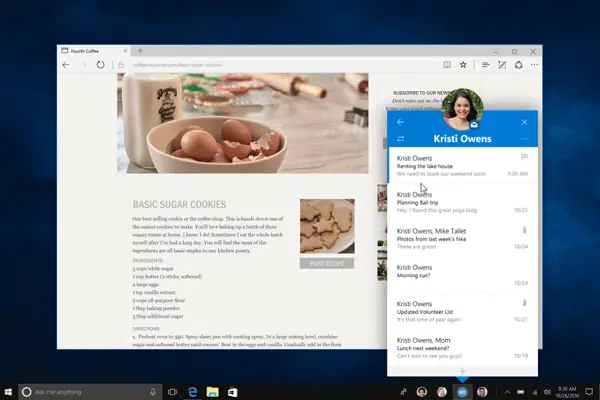 Windows 10 MyPeople feature
Windows 10 My People was advertised as a taskbar feature at Microsoft's Windows 10 event. The feature specifically focuses on sharing and communication task. It places all the important contacts of a user on the toolbar located at the bottom of Desktop screen so that he has easy access to all communications. Besides, he can share the same across a variety of communications apps.
With the Windows 10 Creators Update, we are putting the people you care about most at the center of your experience — right where they belong — with Windows MyPeople. With MyPeople, you will be able to pin your favorite contacts to the Windows taskbar, and easily drag and drop any document, photo or video right on top of the contact for easy sharing", mentions Windows Blog post.
Apart from this, MyPeople will offer unique notifications, called "Shoulder Taps," from most relevant contacts in your list. This, in turn, will allow you to easily open and see an integrated view of emails, IMs, etc. all in one place. Moreover, the Windows MyPeople experience will be integrated across Universal Windows Platform (UWP) apps for easy sharing.
Microsoft says it will filter all incoming mail messages and Skype chats so subscribers get the messages that are important first. The messages when received, will appear as notifications and pop up above the person's icon in the toolbar.
From the pop-up notification above the person's icon, the user can respond to the message directly or switch applications. The motive behind the introducing 'My People' feature is to remove complexities and offer users a streamlined interface for communication. The feature works with email, SMS, and Skype.