After demonstrating how Microsoft Edge is more power efficient than its rivals Chrome and Firefox, Microsoft is back with a rather "pushy" strategy to counter its rivals. Windows 10 users, using Chrome, Firefox or any alternative browser, are seeing a pop-up notification to switch to Microsoft Edge in order to have more browsing time.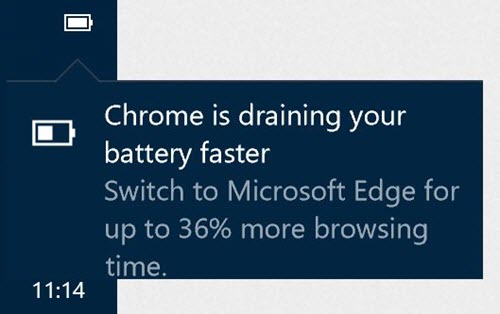 Switch to Microsoft Edge, says the notification
Rudy Huyn, an application developer who works with Windows devices, noticed this and tweeted:
Remember when I spoke about the anti-@googlechrome pop-up? It's come back, here is a screenshot! #windows10
The notification he got to see was:
"Chrome is draining your battery faster. Switch to Microsoft Edge for up to 36 percent more browsing time."
The pop-ups are reported to be seen on Preview versions, and expected to be seen in the final Anniversary Update.
It is a known fact that Chrome browser is not yet fully optimized for Windows 10 and consumes more power while browsing. Last month, Microsoft had published the results of a series of tests showing how Microsoft Edge delivers up to 70% more battery life than the popular web browsers like Chrome and Firefox. Now, as part of the same plan, Microsoft is sending out pop-ups on Windows 10 to use Edge browser.
This is nothing surprising. Even Google adopts these tactics. Visit Google.com or any other Google property and you will see it ask non-Chrome users switch to Google Chrome.