Microsoft recently released a new update for its Windows 10 Outlook and Calendar apps. The updates are minor so not man folks might have realized what it brings to the table in terms of features or design choices.
With the latest updates, both apps were awarded new icons, and recently grey icon Outlook app is now blue, similarly to the Calendar app. However, one should bear in mind that when both are pinned to the taskbar, the icons change to white. Some might call this monochrome, but whatever the case may be, they look great, and we wouldn't mind if this is the final design.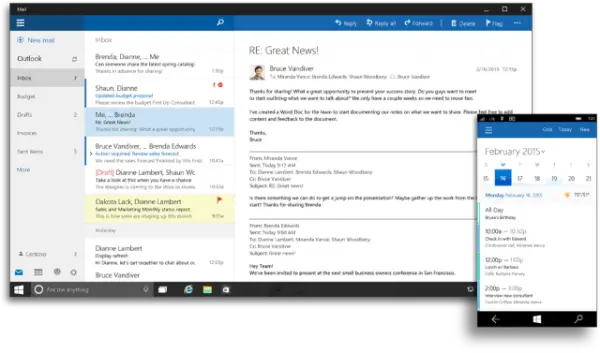 Users will also realize that both apps now have colored title bar (blue), and these looks great as well. To cap things off, both apps feel more polished than before, but they are in no way powerful enough to replace the desktop versions for advanced and business users.
Many features are still missing in the Outlook app. For example, if a user has several unread emails, there isn't an easy way to transformed them into "read", and that is a problem.
The only way to turn unread items into read in bulk is to click on the "select" button and manually choose all the elements. This takes a lot of clicks to get done if a user should have over 100 unread emails in his or her inbox. It is just not intuitive enough, and we hope things will change before July 29 comes along or we'd have to recommend users to keep using Outlook in the browser or via the Office 2016.
When it comes down to the Calendar app, it is just as basic, but in all honesty, the basic features work more to its advantage. Still, we'd love to see more advanced features being implemented in the future though we doubt this might ever happen for quite some time.