Microsoft caters for separate categories of customers. For example, there's Windows 10 Home for personal use, Windows 10 Pro for working professionals and Windows 10 Enterprise for its volume customers. Moving a step forward, the software giant has announced a high-end edition of Windows 10 Pro with support for server grade PC hardware – Windows 10 Pro for Workstations.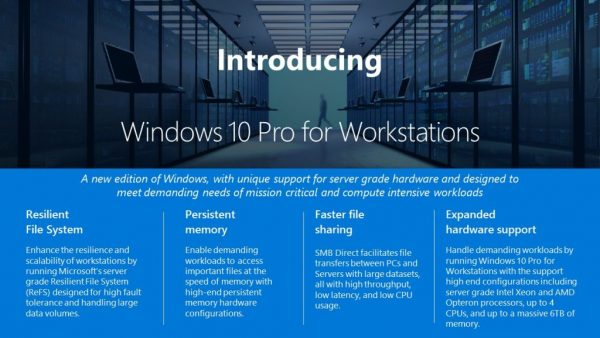 Windows 10 Pro for Workstations
The new edition of Windows will ship as part of the upcoming Windows 10 Fall Creators Update, slated to arrive next month (September). It is primarily designed for customers who require support for server grade hardware capable of handling intensive workloads.
In a blog post, Microsoft mentioned,
Today we are very excited to announce a new edition of Windows 10 Pro designed to meet the needs of our advanced users deploying their Workstation PCs in demanding and mission-critical scenarios.
The blog also outlines details of the special edition. Some of the features worth mentioning include,
Expanded hardware system – the upgraded system will run high-performance configurations including server grade Intel Xeon or AMD Opteron processors, with up to 4 CPUs (today limited to 2 CPUs). Besides this, it will add memory up to 6TB. This marks a rapid increase from the current limit of 2TB.
Persistent memory – Most Windows apps are high in performance and as such, require non-volatile memory modules (NVDIMM-N) hardware that enable reading and writing of files with the fastest speed possible. Windows 10 Pro for Workstations supports this hardware. In addition to the above, NVDIMM-N is nonvolatile memory so all your files are kept safe and not lost even when you switch your workstation off.
ReFS (Resilient file system) – The feature will enable users to manage very large volumes of data with ease and also offer remarkable resilience against data corruption. In addition to this, it will protect your data with integrity streams on your mirrored storage spaces.
Faster file sharing – Windows 10 Pro for Workstations includes a feature called SMB Direct. Using this feature, a user can take their data and make it available to other users on their network. This is known as Remote Direct Memory Access capability and is available by default in Windows 10 Pro for Workstations.
For more information, you can visit Windows blog.