A new update for Insiders in the Fast and Slow rings has expanded Quick Searches feature to a larger audience. The new Quick Searches experience in Windows 10 is now available to users across Australia, Canada, China, France, Germany, India, Italy, Japan, Mexico, Spain and more.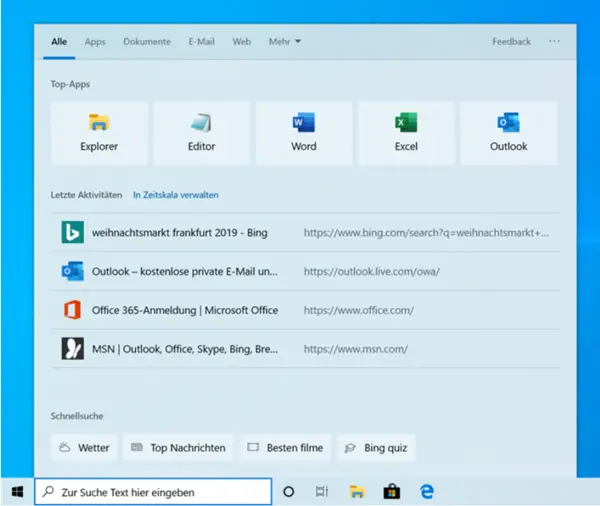 Quick Searches experience expands to a larger audience
As is normal with pre-release builds, every preview build contains some bugs. However, they also feature something new and unique. Earlier, quick web searches were limited to 4 categories. These included,
Weather – fetched information about current weather conditions and the upcoming forecast
Top news – served latest headlines from popular news sites
Today in history – provided a glimpse of historical events known to have occurred on that day
New movies – Enabled users to find out the movie playing in theaters near them.
Now, in addition to these 4 categories, a new category of a seasonal topic or interesting quiz has been added to enhance the utility of the Search feature. So, although the Windows 10 Search may appear simple in function, you can customize it to find web answers and results you desire.
Thank you everyone who's shared feedback so far, we really appreciate it, and will continue working on addressing your comments, wrote Brandon LeBlanc / Senior Program Manager, Windows Insider Program in a blog post.
To preview these web answers and results, hit the search box to open 'Search Home'.
Then, select one of the quick search buttons.
If you are looking for some quick answers about other topics or searches, simply enter a query into the search box and press 'Enter' to get results instantly.
Microsoft notes that currently, it is a server-side change that's currently rolling out and will appear for users across builds from version 1809 to 20H1. Also, quick searches as of now are available only in the US but will be available soon internationally.