Did you know, Windows 10 is already running on 75 million devices? Such fun facts and many others were tweeted today by Yusuf Mehdi, Corporate Vice President of Marketing for Windows and Devices. Its almost a month since Windows 10  was launched and Yusuf Mehdi tweeted his top 10 list of  fun facts.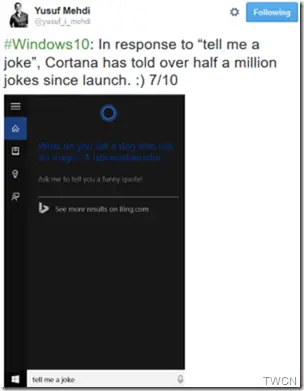 Here are those top 10 :
Already more than 75 million devices are running Windows 10. And the number is growing day by day.
Windows 10 is running in virtually every country on Earth, to be precise Windows 10 is running in 192 countries.
More than 90000 unique PC or tablet models have upgraded to Windows 10.
Some devices manufactured back in 2007 have upgraded to Windows 10.
More than 122 years of gameplay have streamed from Xbox One to Windows 10 devices.
Microsoft Solitaire collection, Minecraft Windows 10 Edition Beta , for these, 10 million achievements unlocked.
One of the popular query put up by users to Cortana is "tell me a joke". In response to "tell me a joke", Cortana has told over half a million jokes since launch.
As compared to Windows 8, Windows Store for Windows 10 has seen 6 times more app downloads per device.
More than 2000 organizations vying to win the global partner slot in #UpgradeYourWorld.
Likes of Kim Kardashian,

ladygaga

, TheRockhave helped in #UpgradeYourWorld.
These were the Top 10 of the fun facts tweeted by Yusuf Mehdi. He also thanked the celebrities in helping in #UpgradeYourWorld . The Windows team made a blog post of it and posted .
Windows 10 running on more than 75 million devices that too with in a month of its launch is a great achievement.
How are you enjoying Windows 10?