Windows 10 S has been lauded for being a lightweight operating system that retains the essentials of Windows 10. Microsoft has designed the Windows 10 S with the education sector in mind and has employed a sandboxed environment. So this is what it means if you want to run a Windows application by side loading the executable file it won't be possible in Windows 10 S. If you are keen to run the programs from external sources you can upgrade to Windows 10 Pro by paying $49.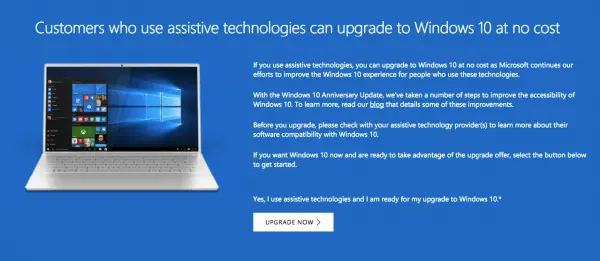 Windows 10 S Assistive Tech users will get free upgrade to Windows 10 Pro
In a nutshell, Windows 10 S users can only install apps from the Windows Store which essentially means that they can't even use the popular Google Chrome browser. However, in a recent announcement, Microsoft has said that it will allow users who require an assistive tech to upgrade to the Windows 10 Pro free of cost. The company further assured that it will be bringing on board a slew of assistive apps on the Windows Store and until then the folks requiring assistive tech can upgrade to the Windows 10.
"If you use assistive technologies, you can upgrade to Windows 10 at no cost as Microsoft continues our efforts to improve the Windows 10 experience for people who use these technologies. With the Windows 10 Anniversary Update, we've taken a number of steps to improve the accessibility of Windows 10."- Microsoft.
All one needs to do is click on the Upgrade Now button on this page and fill up the relevant information when asked to.
Microsoft has been continuously working on improving the accessibility options but the users usually opt for third party apps for enabling a more intuitive layer of assistant technology. Since this is not something that is possible on the Windows 10 S users can get a free upgrade to Windows 10.
On a related note major OEM's are expected to launch laptops with Windows 10 S in the upcoming future.