Windows 10 will soon bring storage health monitoring. This feature is now available to Windows Insiders on the Dev Channel. This way, Windows 10 users can protect their data. In addition to protecting user data, storage health monitoring in the Windows 10 operating system is supposed to detect hardware abnormalities for NVMe SSDs.

Windows 10 to get storage health monitoring
Interestingly, Windows 10 users will have enough time to address hardware abnormalities for NVMe SSDs via notifications. Windows 10 users must back up their data as soon as they receive a notification saying "A storage device may be at risk of failure and requires your attention."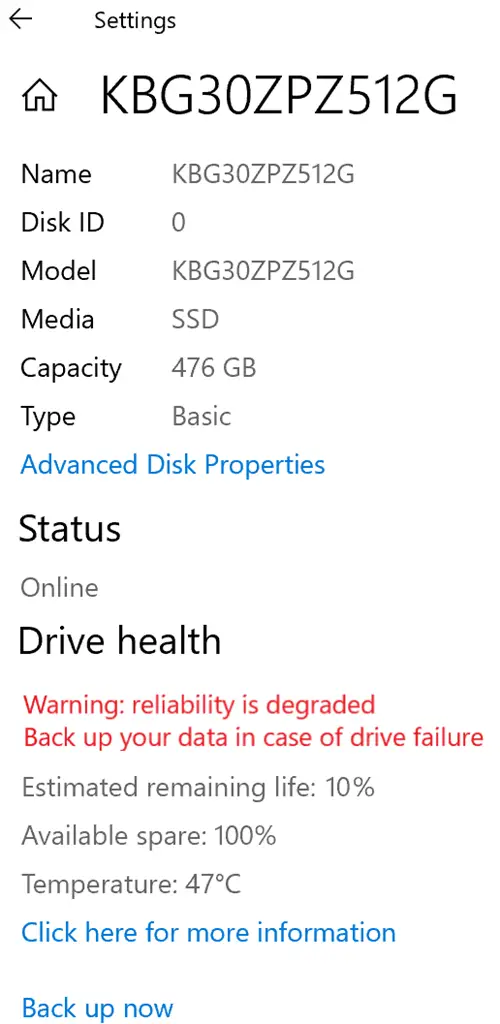 Upon clicking this notification, Windows 10 users will be able to manage drives and backup their files.
"Clicking on the notification or navigating to the drive properties page in Storage Settings (Settings -> System -> Storage -> Manage disks and volumes -> Properties) will provide additional details," said Brandon LeBlanc, Senior Program Manager at Microsoft.
The Settings page will provide users with all the relevant information such as Name, Disk ID, Model, Media, Capacity, and Type of the storage device in question.
Warning, Reliability is degraded, Backup your data in case of drive failure.
Windows 10 users can always check for Advanced Disk Properties. The crucial piece of information will be accessible under the Drive health section. It will issue a warning message and offer insights into the estimated remaining life, available spare, temperature, etc.
At the bottom of this Settings page, Windows 10 users will be able to find an option to Back up their affected storage device.
In addition to the number of fixes and performance improvements, Windows 10 is set to receive a whole new 'Your Phone' settings experience, promising seamless device management within the app.
Windows 10 will soon allow users to link a new device, remove an old device, and switch between active devices within the 'Your Phone' app. Microsoft is also making bringing a visual overhaul to display the list of your devices.
Windows 10 users will be able to easily identify their devices, courtesy of personalized synchronized wallpaper.