Microsoft is working hard to get its Windows 10 customers to shift from using its Windows Media Player software to the Movie and TV app. The software has been a mainstay of Windows for many iterations, and it seems it is finally about to be canned. Windows Media Player has often lost out to one of its numerous competitors as they were perceived to be feature-rich as compared to WMP.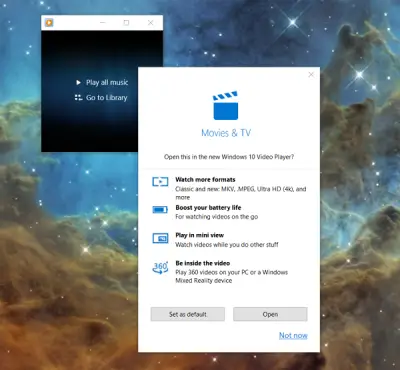 Windows 10 suggests you use Movies and TV app instead
The Windows Media Player has been superseded by the new Movies and TV app. When you open Windows Media Player to play a media file, Windows 10 now throws up a box that suggests you move to the Movies & TV app and set it as the default Media app. While many are debating on it, it is a planned and positive move by the tech giant.
Looking at the social media site Reddit, the debate is hot over Microsoft drastic move. But let us think of it in this manner – while we know many Microsoft users keep Windows Media Player as their default program, they are mostly those who are loyal to Microsoft or never bothered to download freeware on their system. The third class of users would be those working with companies where the policy doesn't allow downloading third-party software. However, most Windows users have moved on to other brands, and this is a concern for Microsoft. Thus, it keeps suggesting the app it deems better.
Arguably there are many software packages out there for the power user, and Microsoft is right to target the home user with this software.  The turning point appears to be the quiet success of its excellent Surface range of hybrid tablets and its decision to leave the mobile phone market well alone.
Overall the reaction to the new app is positive, though many felt that the name was a little basic and could have used a little spice, but the new Microsoft concentrates on quality rather than pomp and it is a decision that seems to be a good guiding principle for Microsoft going forward. The raft of positive changes that have come with Windows 10 has been a huge surprise to those that had used the awful Windows 8; it seems Microsoft has got its mojo back.