Security has always been the first concern at Microsoft, and thus the company has some plans to make the Windows 10 PC completely passwordless in the near future. Microsoft has come up with a new passwordless sign-in option for all its Windows 10 users. A new build is released for Fast Ring insiders where they can enable the Passwordless sign-in option for all their Microsoft accounts.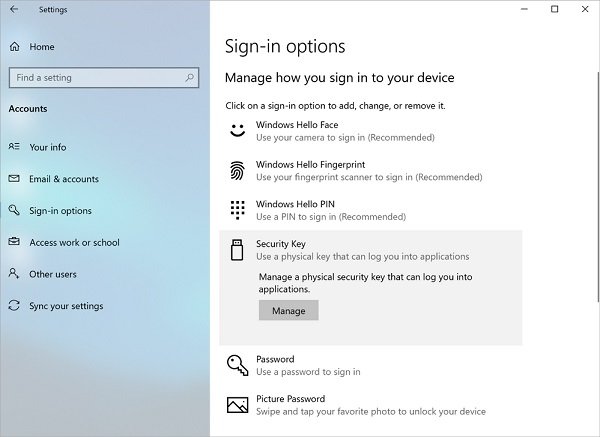 Password-less using FIDO2 security keys
You can go passwordless in just a single click. All you have to do is to open Settings > Accounts > Sign-in options and turn ON the PASSWORDLESS option.
This will remove passwords from all their Microsoft accounts and switch it to Windows Hello Face, Fingerprint or PIN. If you don't have the Windows Hello Face setup, you can set it up during your next sign-in, and the operating system will guide you for that.
The feature currently is available only for a set of Fast Ring Insiders and will be made available for others later this week. You need a FIDO2-compatible security key to try out these new capabilities though.
While announcing the passwordless sign-in feature, Microsoft says, we have set up a program with our partner ecosystem to test the security keys available on the market today and make sure they are compatible with this type of Microsoft implementation.
Also, Microsoft has rolled out a new set of admin capabilities in the Azure AD Portal, which will let you manage the authentication factors for the people in your organizations. The first release brings the passwordless authentication using FIDO2 security keys, and the next rollouts will bring the ability to manage the other traditional authentication factors like phone number sign-in, multi-factor authentication, etc. The tool will ultimately manage all your authentication factors, thereby giving you the best possible security.