Windows 10 is all set to be rolled out in late July however, Microsoft has already put flash drives with Windows 10 for pre-order on Amazon. For many installing the OS via USB drive is the preferred method as such, Microsoft has made available the flash drives of Windows 10 Home for $119 as well as the Pro edition for $199 .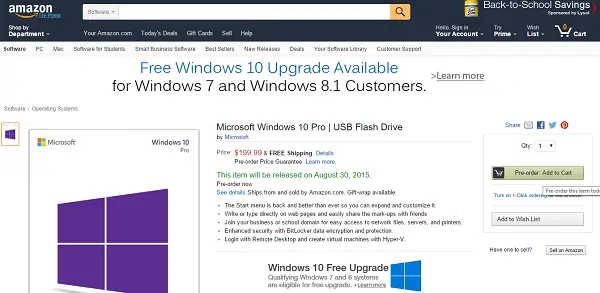 Buy Windows 10 USB Flash Drive
Having said that, Getting the USB drive won't be the fastest way to get the new operating system because, Amazon states it won't be arriving until August 16. Windows 10 beta testers will have the chance to download the final version on July 29, followed by a rollout to other users over multiple days.
Amazon seems to be the only website that is currently making available the USB drives for pre-order but has a curious shipping date of August 16 listed. A few Amazon pages can be seen popping up, selling Windows 10 on a flash drive — direct from Microsoft.
It has been made clear that Windows 7 and 8 users will be able to upgrade to Windows 10 for free for the first year. User building a computer from scratch or not having access to fast internet connection and Windows 7 or Windows 8 preinstalled will find a USB stick as the last resort to test the benefits of the newest version of Windows.
It's interesting to note while Amazon is offering the Windows 10 USB drive neither the Microsoft Store nor Best Buy have the USB stick listed on their page, right now. we also found that the company officials didn't specifically comment on the Amazon pages but did confirm what everyone has suspected – availability to buy Windows 10 on a USB stick and install the new OS without needing a DVD drive.