Ultimate Windows Tweaker 4 for Windows 10, 64-bit and 32-bit has been released and is now available doe download from our site. Apart from including the usual tweaks, this freeware adds several tweaks that let you tweak your Privacy settings.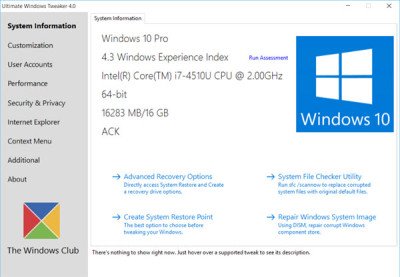 This tweaker is just 495 KB in size and includes over 200 tweaks. Like its predecessors, UWT 4.0 sports a clean minimalistic UI, offering links in the left panel, and tabs on the top, in most categories.
What is new
Ultimate Windows Tweaker 4 for Windows 10 adds several new tweaks, including the following main one's:
Several tweaks have been added under a new Privacy section, seeing the concerns being raised about privacy issues
Many new tweaks including tweaks to the Context Menu for Store Apps to support Windows 10
You can Run DISM command to fix corrupted system image.
The Privacy tab lets you disable Telemetry, Biometrics, Advertising ID, Bing search, Cortana, Windows Update sharing, Feedback requests, password Reveal button, Steps Recorder, Inventory Collector and Application Telemetry.
You can also opt to use Light or dark theme for OS or apps, disable Start animations, use default or change Battery Date & Time flyouts or change the Volume Control, show or hide Frequent folders or Recent files, etc, under the Customization tab.
Those of you who have upgraded to Windows 10, would definitely want to use it to judiciously tweak your Windows 10 and personalize your computing experience.
It is available at the Ultimate Windows Tweaker 4 home page.