Microsoft has converted Windows Updates into better carriers of new features and tech in the past decade. We have also seen a few feature updates that brought in-demand options to the Operating System. As the latest entry on the list, Microsoft is planning to roll out Windows 10 version 21H1, and this next feature update will be coming in Spring 2021.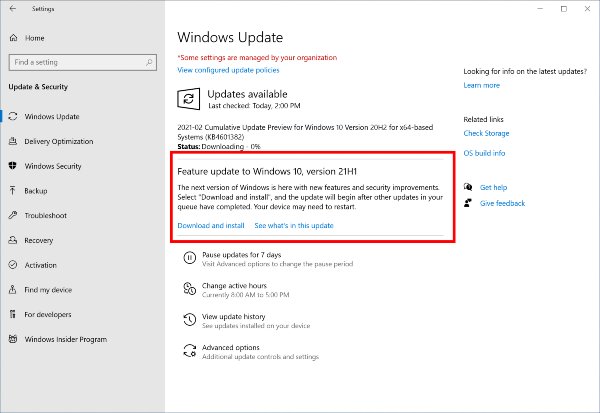 Windows 10 v 21H1 coming this spring
Those who have signed up for the Windows Insider Beta Channel can install the update today and check out the new features and improvements. Microsoft has not specified the date on which the update will be available for the public.
Windows 10 version 20H2 was the last feature-based update the OS had received. So, the 21H1 update will be placed on top of that update. Although version 21H1 makes a few changes across the OS and its user experience, Microsoft has focused on three significant improvements.
First, the update has added multi-camera support for Windows Hello. It means users can now connect external Hello peripherals when connected to a larger display.
Second, Windows Defender Application Guard will optimize security while dealing with various documents across the OS. Besides, there are upgrades to the core security system of Windows Defender.
Third but not least, Microsoft also adds enhanced support for modules like Windows Management Instrumentation and Group Policy Service.
Well, the version 21H1 update isn't seemingly groundbreaking in many aspects. You cannot expect a User Interface overhaul either. Instead, Microsoft expects this update to fix some of the bigger shortcomings in Windows 10 and push certain features to a streamlined working condition.
Meanwhile, the company is working on a Windows 10 update codenamed Sun Valley, which is expected to revamp the Windows 10 UI as we know it. However, a user will have to wait until the end of 2021 or the beginning of 2022 to get their hands on the update since Microsoft is yet to start its Insider Dev channel testing.
If you can handle some common bugs but want to check out what the update offers, you can download the Windows 10 version 21H1 update from the Windows Insider Beta Channel.