Microsoft has added support for 11 archive formats to Windows 11. This support for 11 different archive formats will be applied to Windows 11 after installing the latest Windows Update with the KB number KB5031455.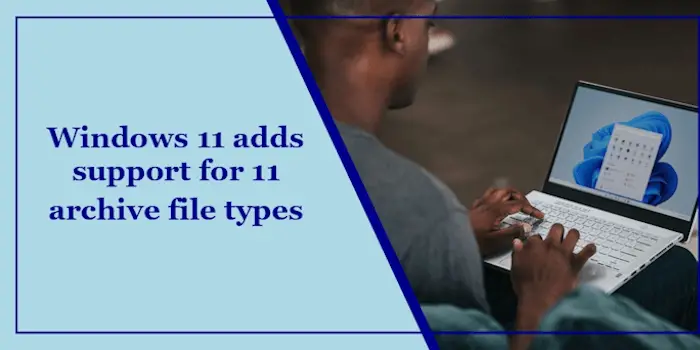 Windows 11 adds support for 11 archive file types
The Windows Update KB5031455 was released in the past month and was available to all users using the stable build of Windows 11 version 22H2. The archive files supported by Windows 11 include .tar, .tar.gz, .tar.bz2, .tar.zst, .tar.xz, .tgz, .tbz2, .tzst, .txz, .rar, and .7z.
Previously, Windows 11 users had to use different third-party applications to extract the above-mentioned file formats. But from now on, Windows 11 users need not depend on any third-party application to extract these file types, provided the Windows Update KB5031455 is installed on their systems.
KN5031455 is an optional update. Hence, you have to install it manually. You can install the Windows Update KB5031455 via Windows 11 Settings. Open Windows 11 Settings and go to Windows Update > Check for Updates. If the update with KB number KB5031455 is displayed, download and install it. You can also check whether the update KB5031455 is installed on your system or not by opening the Update history page in Windows Update.
Though Microsoft added support for 11 archive file formats, the support for password-encrypted files is yet to be added. Currently, users can only open and extract these 11 archive file formats in File Explorer without using any third-party tool but they cannot create these archive files. Microsoft is currently working on this and soon the support to create these files will be added to Windows 11 in 2024.
Microsoft also added more features to File Explorer with the KB5031455 update, like the address bar of File Explorer is redesigned to recognize local and cloud folders, Gallery is added to File Explorer where users can access their photo collections, and more. You can read complete details about the update KB5031455 on the official website of Microsoft.