Microsoft Windows Team has started rolling out new features for Windows 11 users, including a couple of new experiences. The list consists of Amazon Appstore Preview, Taskbar enhancements, and two redesigned apps, including Media Player and Notepad. The updates are being rolled out in a staggered fashion, so it may take some time to appear on your PC.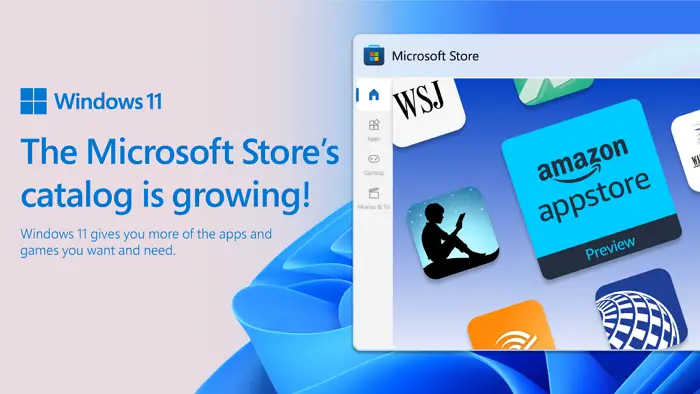 Here is the list of features with details.:
Amazon Appstore Preview
Announced with Windows 11, the ability to install Android apps on your Windows PC is finally being made available to users in the US. You can download it from the Store and then download apps from the Mobile category. 
Taskbar Enhancements
The right-click menu on the Taskbar is still not back, but Microsoft is rolling out some enhancements that will make it more useful.
Mute/unmute & share any window from the Taskbar: Any active Window using a microphone will get an active icon on the Taskbar. It will be available along with the rest of the icons on the System tray.
Weather on the Taskbar: The weather information will now sit at the left extreme corner of the Taskbar. When you click on it, you will get to the Windows Widget along with the weather information. Otherwise, it will simply display the weather icon and temperature.
The clock on a second monitor: It will be the most helpful feature for those who use dual monitors. You can get to see the clock on both of them by default.
New Media Player & Notepad Upgrade
Windows Media Player finally has an upgrade and a major one. The features include
Browse, play music and create a Playlist
Automatic music discovery
Optimized for accessibility
Improved keyboard shortcuts and access keys
The older playlist will be migrated automatically
When it comes to Notepad, it is now loaded with features that will make it more valuable and not just a place where someone pastes text to clear formatting.
Freshly redesigned user interface
Dark Mode
Windows 11 design
Simplified menu
Multi-level undo, colorful emojis, and a modern and efficient find-and-replace experience.
The new Windows 11 Notepad uses RichEdit and runs on up-to-date Windows 11 installations. In addition to a Windows 11 look with rounded corners and a dark-theme option, the new Notepad includes several standard RichEdit editing enhancements, such as Alt+X for entering Unicode characters, Ctrl+} for toggling between matching brackets/parentheses, multilevel undo, drag & drop, color emoji, block selection, and autoURL detection, says Microsoft.
While these are not significant updates, looking at these, it is clear that Microsoft is keeping its promise and rolling out features as it promised. Amazon Appstore will be one of the most prominent features that many waited for, followed by other features.