The release of Windows 11, expected by the end of the year, has got the entire tech community psyched. The new Operating System has some very specific Software and Hardware requirements, making it a problem for those whose PCs are a little dated but those people may not worry. BlueEdge has created an open-source webpage that is a simulation of the latest Windows 11, so people can try how it works and what it looks like before making their minds about upgrading.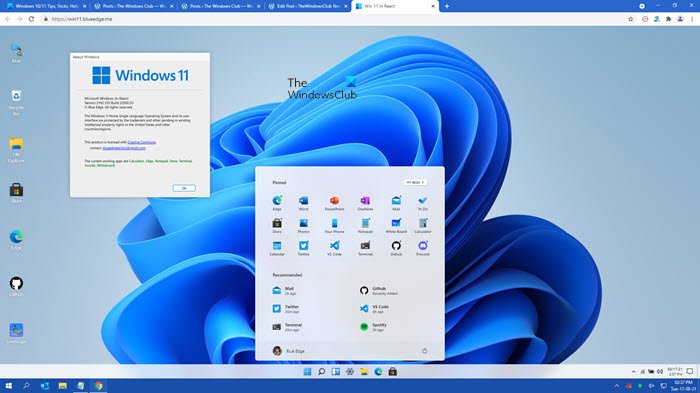 Windows 11 Simulator Online
With this project, users can get a free, hands-on experience of Windows 11 on any device without actually installing it. Using CSS and Javascript, the webpage is an emulation of a Windows 11 desktop's home screen with some of the most frequently used apps like File Explorer, Microsoft Edge, etc.
It's been reported that this website can be accessed from mobile phones also. While that isn't an accurate depiction of what the interface of a phone running on Windows 11 will look like, it does make the project and the new OS more accessible to people.
What's even more interesting is that these app icons, except the File Manager, aren't props. You can open Microsoft Edge and actually access links and browse through websites inside the webpage simulation. Users, obviously, don't get a holistic view of all that Windows 11 will be bundled up with but it's good for them to get a basic look and what the new changes are going to look like, maybe help them get used to it quicker.
How to try Windows 11 without installing it?
Here's a list of things you can do on BlueEdgeTechno's Windows 11 Simulator:
Access the Start menu, Search option, and Widgets
Use the navigation bar and calendar
Browse through the Store and use the Calendar
Access Notepad, Vscode, and digital board
As mentioned, the website is free to use at win11.blueedge.me.