Microsoft has unveiled its initiative to progress remote and hybrid working experience with Windows 365. Windows 365 is a cloud-based service meant to fundamentally change the way we use the Windows OS on our computers. What it does is take the Operating System to the cloud – meaning that the conventional Windows experience; using apps or data, will now be accessible to its users across devices.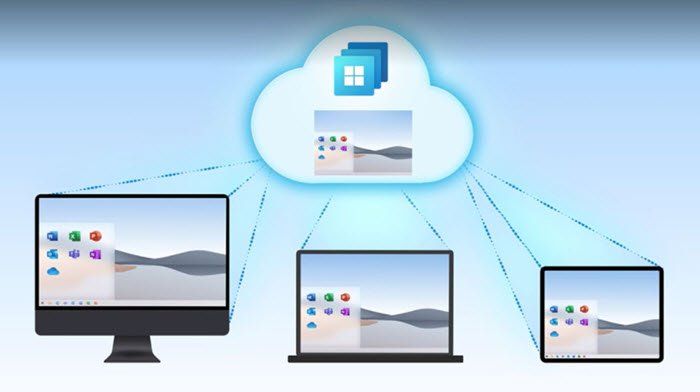 Microsoft unveils Windows 365
"With Windows 365, we're creating a new category: the Cloud PC. Just like applications were brought to the cloud with SaaS, we are now bringing the operating system to the cloud, providing organizations with greater flexibility and a secure way to empower their workforce to be more productive and connected, regardless of location." – Satya Nadella, chairman and CEO, Microsoft.
Since Windows 365 is going to store information in the cloud and not locally on your computer, the level of security and privacy is only going to step up. Owing to the Coronavirus pandemic, many people have had to resort to remote working environments. In such testing times, Microsoft's move of integrating the Windows setup on the cloud lends a helping hand and makes it more convenient for people to carry out their work from the comfort of their home since data can now be shared across a secure network.
Jared Spataro, the Corporate Vice President of Microsoft 365 said,
"Hybrid work has fundamentally changed the role of technology in organizations today. With workforces more disparate than ever before, organizations need a new way to deliver a great productivity experience with increased versatility, simplicity, and security. Cloud PC is an exciting new category of hybrid personal computing that turns any device into a personalized, productive, and secure digital workspace. Today's announcement of Windows 365 is just the beginning of what will be possible as we blur the lines between the device and the cloud."
The instant-on boot to the Cloud PC will make applications and data more accessible than ever. It also offers dynamic processing power which can be scaled up or down based on the user's requirements. It all becomes very simple to carry out tasks when the data is synced with a cloud server. Windows 365 has implemented the principles of Zero Trust, so your concerns regarding the security of data are also taken care of.
You can read more about how this is going to work with Windows 10 (and Windows 11 in the future) on microsoft.com. Also read about Windows 365 Cloud PC Details, Price, Release Date, FAQ here.