It is now much easier to switch between Windows 365 Cloud PC and the local desktop using the Windows 365 Switch. Microsoft has made it available in the public preview today. Windows 365 Switch provides an easy way to move between local desktops and Windows 365 Cloud PC.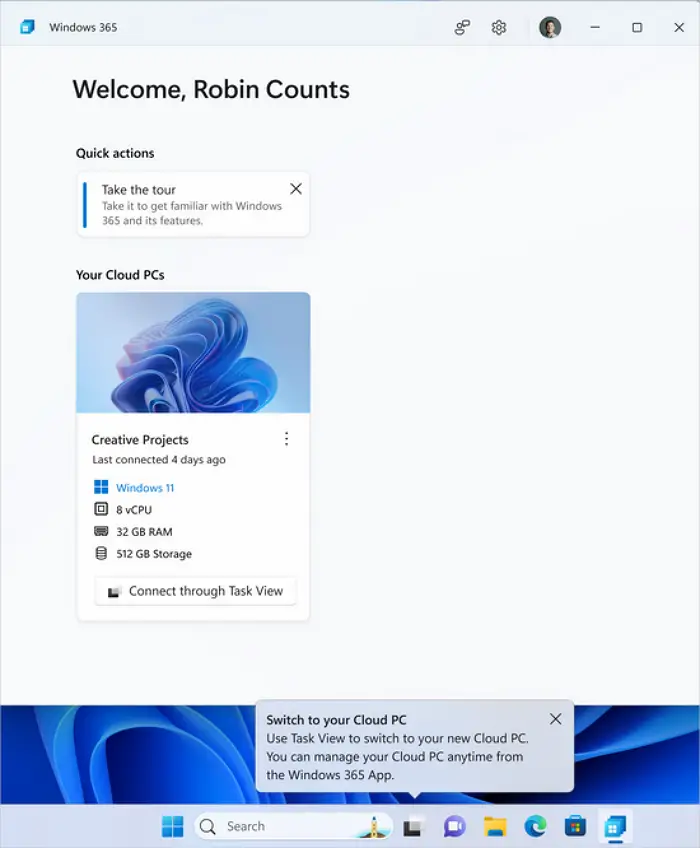 Windows 365 Switch public preview is available now
Microsoft has made Windows 365 Switch public in its preview and it is available in the Task view feature of Windows 11. It provides a seamless experience to the user while switching between cloud and local PC using the same familiar keyboard commands and a mouse-click or swipe gesture.
This new feature will be valuable to bring-your-own-device (BYOD) scenarios when you connect from your own Windows device to a company-owned secured Cloud PC.
Requirements to get and use Windows 365 Switch
You need to have the following to be eligible to get access to Windows 365 Switch and use it, according to Microsoft.
Windows 11-based endpoints (Windows 11 Pro and Enterprise)
Enrollment in the Windows Insider Program (Beta Channel)
Windows 365 Cloud PC license
Once you have the requirements checked on your PC, you can download Windows 365 app from the Microsoft Store with version 1.3.177.0 or newer. IT admins can download the app for the end users using Microsoft Intune.
After installing the Windows 365 app, you need to wait for a few hours to get the switch enabled fully. You can now use the Task view feature beside the Search button on the taskbar to use the Windows 365 Switch for Windows Cloud PC.