Here is another cool contest from MSDN India! Test your knowledge on Windows 7! Participate in the Quiz Contest and you stand a chance to win a Windows Phone, USB Pen Drives and Microsoft Arc Mouses.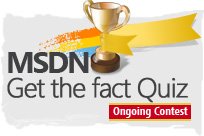 Windows 7 provides innovative features that will light up your applications and delight your customers. From Animation Manager and Ribbon Framework to Sensor' Location' Touch and Web Services' Windows 7 makes your life easier and makes programming your application a breeze. Take this quiz out to find how well you know Windows 7 and get a chance to win some cool prizes.
If you love Windows and pride yourself in knowing the latest Microsoft tools and technologies better than anyone else, take this quiz, test your knowledge and win some cool prizes.
The Contest is strictly restricted to IT Professionals, which includes:
Developers
System Administrators
Architects
Designers
Visit MSDNContest.com.
You will have to log in with your Windows Live ID. The Contest is valid in India only.