Good news for all professionals out there! Microsoft has released Windows 8.1 Enterprise Preview Edition. This business-centric version of Windows 8.1 has followed the release of Windows 8.1 preview as well as release of Windows Surface RT. Now, you can have a sneak peek into this new enterprise edition of Windows 8.1.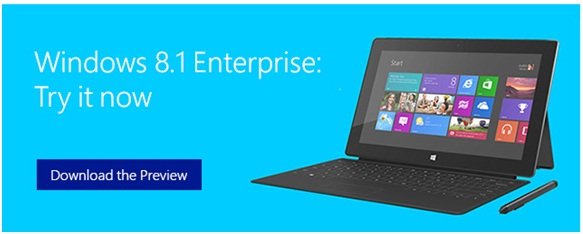 What comes with the Windows 8.1 Enterprise Preview Edition
Windows 8.1 Enterprise Edition is an update to Windows 8. Microsoft has released its preview for free download, so that users can have a good idea what Windows 8.1 has to offer. It has many features that make it the fastest, easiest to manager and the most secure Operating Systems for desktop, laptop, or tablet. The preview is available in both 32 and 64-bit variants. Users are given access to various technical resources such as demos, evaluation guides, forums and training courses to understand more about Windows 8.1 OS.
The Enterprise preview of Windows 8.1 is available in several languages such as English, German, French, Korean, Japanese, Russian, Spanish, Portuguese, Swedish, Turkish and even Arabic and Chinese. Thus, it can be used in any language that you are comfortable in.
Windows 8.1 Enterprise Edition offers enhanced user experience. With this advanced OS you get multi-monitor support, multi-tasking feature clubbed with keyboard and mouse navigation. Windows 8.1 Enterprise Edition also supports latest hardware invention such as InstantGo, processors, displays, smaller tablets and biometrics.
Microsoft mentions in a statement, that the Windows 8.1 Enterprise Edition Preview address security, mobility, virtualization and management which are one of the strongest needs identified for today's enterprises.
This edition is capable of creating a fully manageable corporate Windows 8.1 desktop on an external USB drive. Other attractive features that this edition comes up with are:
Start Screen Control
Direct Access to resources within a corporate network without launching a separate VPN
BranchCache to cache websites, files and other content from central servers locally on hosted cache servers or PCs.
Virtual Desktop Infrastructure or VDI to play 3D graphics and use USB peripherals across LAN or WAN.

AppLocker

to lock the apps for more security
Download Windows 8.1 Enterprise Preview Edition
If you want to test and experience the excellent features of the Enterprise Edition, you will need to install the Windows 8.1 Enterprise Edition preview on your PC. However, you won't be able to upgrade this preview version to fully licensed working version of Windows 8.1. To use the Windows 8.1 Enterprise Edition OS, you will have to reinstall your applications and Windows OS to move from preview to production bits. However, your personal data will remain intact on your machine. Hence, whatever data you work on during the preview period, will not be lost.
Go here to get the links for Windows 8.1 Enterprise Preview Download, Features, Deployment Tools & Guide.