We already know that starting October 18th, Windows 8.1 will be available at retail and on new devices in the market. Today Microsoft announced its pricing too and also revealed its packaging.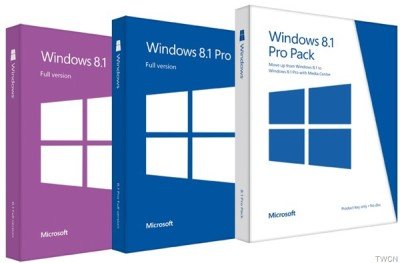 Windows 8.1 pricing
Starting Oct 18, for consumers running Windows 8 , Windows 8.1 will be a free update which can be downloaded from the Windows Store. For those consumers not using Windows 8 device, they will be able to buy Windows 8.1 either as a download from Windows.com or from their local store as a retail packaged DVD. In the US,
Windows 8.1 will cost $119.99

Windows 8.1 Pro will cost $199.99
The pricing and editions for Windows 8.1 are similar to what is there for Windows 8 .
If you buy a device with Windows 8.1 edition later this year, you will be able to purchase Windows 8.1 Pro Pack for $99.99 and you can unlock all the features of Pro as well as Windows Media Center. If you are already on Windows 8.1 Pro, you can buy Windows Media Center for $9.99.
One change to note is that Windows 8.1 will be offered in 'Full version software' at retail and online, while currently Windows 8 is available for sale at retail and online as an 'Upgrade version'. So the 'Full version software' of Windows 8.1 will not require a previous version of Windows in order to be installed. This change will allow more flexibility for customers, announced Microsoft.
This shift allows more flexibility for customers in specific technical scenarios and is in response to feedback we've received. It will be easier for those consumers who want to build PCs from scratch, run Windows 8.1 in Virtual Machine (VM) environments, or run Windows 8.1 on a second hard drive partition.
Windows 8.1 upgrade path
For those devices which are non-Windows 8 and wants to upgrade to Windows 8.1, this is how the Windows 8.1 retail DVD and download software will work:
Windows 7 : Upgrading a Windows 7 PC will bring along all their files, but will require them to reinstall desktop apps including Microsoft Office.
Windows XP and Windows Vista: Windows 8.1 is not designed for installation on devices running Windows XP or Windows Vista. If one still wants to upgrade from XP or Vista, should buy the retail DVD instead of using the download and boot from DVD to do a clean install of Windows 8.1. Consumers will have to first back up their files and settings, perform clean install and then reinstall their files, settings and programs.
Windows 8.1 evolves Windows 8 and brings several new features and  advancements in hardware, apps and services to the OS.