The long awaited Windows 8.1, the update to Microsoft's flagship operating system is finally released for the users as a free download. The most demanded 'Start' button is restored in the Windows 8.1 update. Furthermore users can now boot up their Windows 8 PCs with a traditional desktop interface.
Windows 8 users can see the Windows 8.1 update notification in the Windows store with a prompt to upgrade for free. The update comes with many performance improvements including a changed Start Screen, built-in Bing search and smart SkyDrive syncing.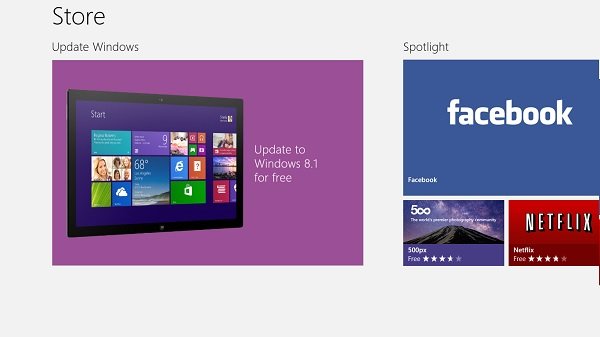 The software giant has also updated around 24 built-in apps for Windows 8.1 Rollout along with the system upgrade. Windows 8 users will get the update notification in the Windows Store. Furthermore Windows RT 81 update is also available for the Surface RT users.
Check out the full overview of all the new features added in Windows 8.1 –
Start Button- Windows 8.1 brings the Start button back which opens up the tiled interface. Long pressing the Start button opens up the system controls.
Desktop mode – Users can now boot their PC with the traditional desktop interface.
Gesture control – Some of the Windows 8 application can now be started with gesture control.
Tile sizing – Touch device users can now re-size the blocks in four different sizes.
Web browsing – Users can now browse different web pages side by side.
Shifting to Windows 8.1 for existing Windows 8 users should relatively easy as compared to Windows 8.1 Preview users. Existing Windows 8 users can upgrade the system right from the Windows store for free. The update will make no changes to the Windows 8-style apps and desktop apps including your files and settings.
The upgrade will be slightly different for the Windows 8.1 Preview users and will depend on how the Preview was originally installed in their systems. If you installed the preview from Windows Store you can straightaway move to the final upgrade available in the store. Your files will retain but the apps would not.
Then again if you have installed Windows 8.1 Preview via .iso files then you might need Windows 8.1 license key to activate the upgraded operating system. If you were previously running Windows 8 before installing Windows 8.1 Preview via .iso files you'll need to re-install the operating system before upgrading to make sure that you don't have to but a new license key.
If you face any issue in upgrading through Windows Store, click this link from your Windows 8 device