Many Tablets, Smartphones and Apps got released at MWC 2012 till today. However, the biggest attraction was of Windows 8 Consumer Preview, which happened a few hours ago in Barcelona, Spain. The event was led by three Microsoft executives displaying Windows 8 Consumer Preview through an array of types of devices including tablets, notebooks and PCs.
The event began by an introduction from Tami Reller, who welcomed everyone and did all the formalities. Steve Sinofksy then took up the stage later to take the conversation ahead by talking a few words about Windows 7 and its success. Windows 8 developer preview was released months back and Sinofksy confirmed that more than 100,000 changes in the code were made to release the consumer preview version of Windows 8, as we are seeing it today. He explained that Windows 8 has been developed by keeping different approach in minds where manufacturers looking for different form factors are encouraged.
Sinofsky also pointed out that Windows 8 has been developed, based on the idea of one operating system through devices of different sizes. He also emphasized on unique features like cloud connectivity, etc. Later the event was led by Julie Larson-Green, Corporate VP for program management, and Antoine Leblond, Corp. VP for Windows Web Services, who demonstrated Windows 8 Consumer Preview on different devices.
Windows 8 on Tablets
Julie began demo on a Samsung tablet by showing off a personalized lock screen of Windows 8. Users are allowed to use patterns, pins or traditional password system for log in process. When the credentials are entered, just slide up screen and there you are on home screen filled up with enormous number of tiles. Julie showed up different apps including browser, Video Store, xBox Games and more!
In Windows 8 when you want to switch from one app to other, you just have to push it out to the left screen. When you want that app back, just pull it in on the screen. So, virtually you don't actually have to close any running app on this new OS. Major attraction of all apps was People app flooded with various features that a user uses daily. The list includes Windows Live, Google, Twitter and more. A person's contact info also shows up information about his online accounts like Windows Live ID.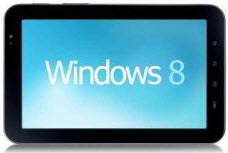 Another important feature of Windows 8 is Charms Bar using which you can actually share through any app that supports share activity.
Windows 8 on Laptops
Antoine Lablond took stage later to show off remaining features of Windows 8. This time it was Lenovo IdeaPad U300s that was running Windows 8. The reason for the change in device was to showcase how this new OS performs with mouse and keyboard.
Consider that you are in middle of app and want to go back to tiled interface? There is no start button or taskbar! Then you just move your cursor to the usual location of Start Button (left bottom corner) and there – viola – is Start Orb appearing out of nowhere!
Antoine demoed the news app and shared recently read news using Charm bar. He also showcased Microsoft Excel and Outlook tiles demo where these apps worked in similar fashion as they used to on previous versions of Windows. A demo of new copy experience was displayed.
In Windows 8,  when you copy something, a dialogue box appears indicating time required to copy and destination folder. You can pause copying files at any moment and resume when required. Windows 8 even allows aggregate multiple copies at once.
Windows 8 on Desktops
Everything on Windows 8 is based on cloud. Julie took stage again to display Windows 8 performance and cloud related features. She displayed a file manager on-screen where all files were stored on SkyDrive. She also demoed search function in Internet Explorer and Charm bar, again!
Later it was the display of Windows Store where there are currently not many apps. But the narrator provided a hint about opportunities developers can avail by providing more and more apps to The Windows Store.
Hardware Partners and Closing Moments
Followed by Windows 8 Consumer Preview was the keynote by hardware partners of Windows 8. There was announcement that Windows 8 will run on chips from Intel, TI, Qualcomm and nVidia. A demo of browsing on ARM tablet was showcased. A narrator displayed how NFC technology will be used to connect speakers, drives and other external peripherals with PC running Windows 8.
There was announcement about Windows To Go, an enterprise level feature to be explained at CeBIT trade show very soon. In concluding parts, release of Visual Studio 11 was made.
Windows 8 Consumer Preview is very different from what we saw in Windows 8 Developer  Preview. Here is a quick video displaying features of Windows 8 CP.
You can download Windows 8 Consumer Preview copy from the official website. If you have downloaded it already, let us know your views about it in comments below.