Microsoft is going all guns-blazing promoting Windows 8. With a reported $1.8 billion advertising budget, Microsoft is making sure that it is exploiting all forms of media and advertising. While ads in news papers and magazines are common place, what has really caught the attention of all is glossy promotions fixed to the front of Conde Nast's December issues, including those of Glamour, Vanity Fair , Allure, Wired and other magazines.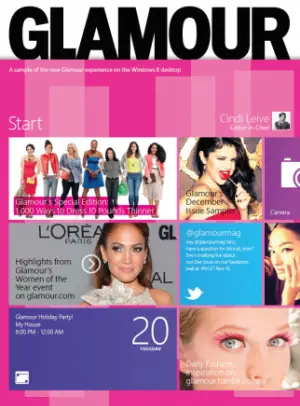 The promotions are in the form of full pages attached to the covers of 14 titles from Conde Nast. These show the Windows 8 Start Screen and Tiles.
For instance, Glamour magazine shows a Start screen for the Editor-in-Chief with items such as highlights from a magazine event, a tweet, the Windows camera app, a December Issue Sampler for Windows 8, a special edition of the magazine and a holiday-party reminder from the new Windows 8 Calendar app.
Starcom MediaVest Group, which handles Microsoft's ad planning and buying in the U.S., described its campaign and partnership with Conde Nast as a "groundbreaking multifaceted paid program with nonpaid elements," reports Adage.
While Conde Nast said that they were not paid for and just the company's own initiative to tell readers about its content on Windows 8, people are finding that hard to digest.