With the release of the Windows 8.1 preview being around the corner, Microsoft has decided to go public about how the Windows 8 to Windows 8.1 Preview upgrade will work.  Microsoft Senior Product Marketing Manager Michael Niehaus, during a TechEd session in New Orleans, stated the following points, which may of interest to Windows 8 users who may be planning to install the Windows 8.1 Preview.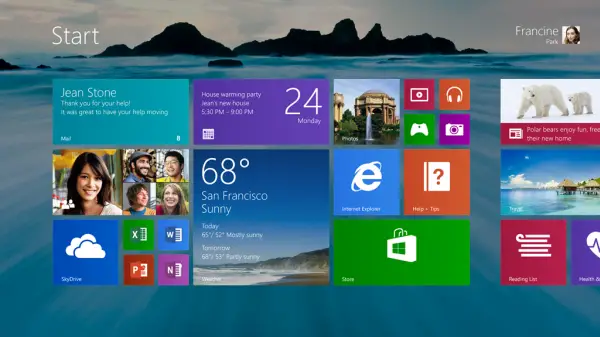 Windows 8 to Windows 8.1 Preview Upgrade
1. Windows 8 users will be offered the public preview of Windows 8.1 via the Windows Store on 26th June 2013.
2. Users will receive a Windows Update notification and this will trigger new bits to show up in the Windows Store.
3. If you install the preview version and need to install the final RTM version, when it is released, during this upgrade from the preview to final RTM version, while your data will remain intact, you will later on need to reinstall all your apps.
4. Even if you just wish to uninstall the preview and go back to Windows 8, you will need to reinstall your apps.
5. If you are using Windows RT devices, you will have to reinstall all your Windows Store apps. For Windows 8 systems, you will have to reinstall both, your Windows Store apps as well as the Desktop programs.
6. Once the final version of Windows 8.1 is released, in this case too, a Windows Update notification will be seen.
7. If you chose to directly upgrade to the final RTM version, you data, apps and installed programs will remain intact as they were. You will not be required to reinstall any apps.
So in short, if you as a Windows 8 user decide to install the Windows 8.1 Public Preview version, remember that you will have to reinstall your software, when you rollback to Windows 8 or move over to Windows 8.1 Final RTM version.
The Windows 8 to Windows 8.1 upgrade would be comparable to how the Windows 7 to Windows 8 upgrade managed user settings, data and apps. Windows 8.1 is expected to remove some old components, temporary files and improve upon NTFS compression. Users can also expect to see a reduced footprint size for Windows 8.1, as compared to Windows 8. 4GB of free space will be required to install the Windows 8.1 preview buildand its installation in no way will replace the recovery partition, reports ZDNet.
READ: Windows 8.1 Preview Download, Installation, Product key.