Windows 8 adoption rates are rather encouraging and the reason behind is the improved functionality and stability. Statistics say that 9% users in Portugal, 6% users in Hungary and 8% users in China have made the transition from Windows 7 to Windows 8. However the transition rates in US are still lower than expected. American users are following the approach of wait and watch and thus only 3.4% transition is reported in United States.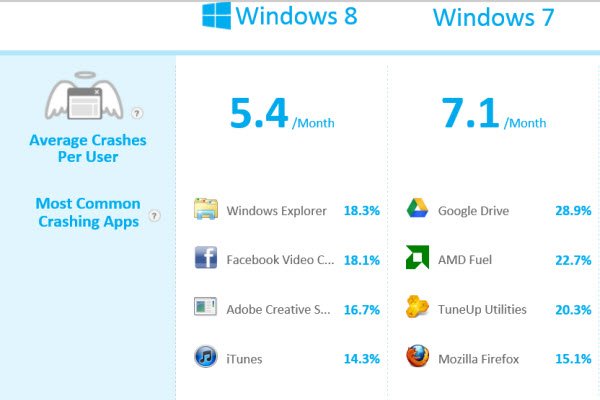 This report by Soluto, based on anonymous data collected from the Soluto community, says that Windows 8 crashes 55% less as compared to Windows 7. The report not only gives you a breakdown of how often users are experiencing a crash on their operating system but also lists don the number of times some of the popular applications are crashing. TuneUp Utilities too is showing lesser crashes.
These stats are enough to convince a user switching to Windows 8. This recent report shows that Windows 8 is not just refurbished with its new design but also with the functionality. Report further says that Google Drive in Windows 8 crashes just 1% s compared to that in Windows 7 which is reported to be about 33%.
However there are certain apps which are reported to crash more frequently in Windows 8 as compared to that in Windows 7. These apps include Facebook video calling, Apple's iTunes and Soluto itself.
Facebook Video Calling crashes just for 1% for users of Windows 7, whereas it crashes at least once in a month for Windows 8 users, on the same node Apple's iTunes crashes twice in Windows 8 as compared to Windows 7.
The crash statistics further for Internet Explorer is however the same in both the operating systems.
Windows 8 is getting popular day by day and being used many users all around world and the credit goes to its touch friendly interface. Most of the tablet users are now using Windows 8 just because of its touch friendly interface and revamped stylish design.
How reliable this data is, can be a matter of debate, but what is not, is that, Windows 8 users, generally speaking, are definitely finding their new operating system to be even more stable than the very popular Windows 7.