Microsoft has made several announcements during its MSIgnite event, and the majority of them are around Azure, and it's hybrid capabilities. Many companies follow this model, and keeping this in mind; the Windows Admin Center 1910 has many new hybrid features to streamline integration and extend on-premises servers and networks seamlessly.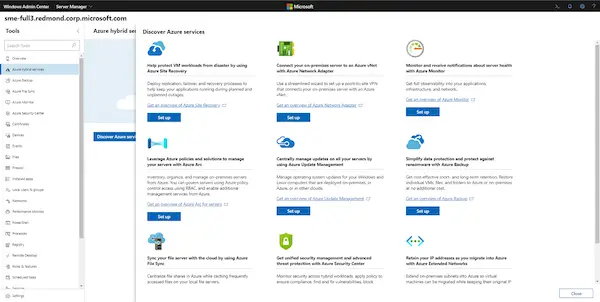 Windows Admin Center version 1910 with hybrid capabilities with Azure
Azure Arc, the recently announced Azure Arc, makes deployment of Azure services anywhere and extends Azure management to any infrastructure. You can use the Windows Admin Center to connect to on-premises servers to Azure Arc.
Integration with  Azure Security Center integrates with Admin Center for end-to-end threat monitoring across both on-premises and Azure for your server workloads.
Powerful Azure Monitor Service lets you turn on a set of default alerts to notify you about the server and cluster performance health via email.
Azure Extended Networking helps one to extend on-premises server networks and IP subnets to Azure without breaking IP dependencies.
You can create new Azure Virtual Machines from within Windows Admin Center
Storage Migration Service helps migrate on-premises file servers to Azure. You can also upgrade to more unique versions of Windows Server in the process. It helps to migrate from legacy operating systems, Samba on Linux, and standalone servers to the latest versions of Windows Server and failover clusters.
Windows Admin Center integrates with Azure File Sync. It allows IT admins to configure Storage eSync Services and setup Azure File Sync for on-premises servers from within the interface.
Windows Admin Center now supports creating Azure Virtual Machines on the fly.
Windows Server management new and improved tools
Unique graphical views and the ability to customize aspects for their environment. It helps to figure out what is slowing the servers.
Fully supports live migration between Hyper-V servers and clusters.
IIS management tool in Windows Admin Center offers simplified management of web applications.
New packet monitoring tools deliver insights via network troubleshooting and diagnostics.
Microsoft has also announced new Windows Admin Center partner extensions from Dell EMC, HPE. You will also get updated extensions from DataON, Lenovo, QCT, and Thomas-Krenn.AG.
A lot more details are available on the official announcement. Make sure to read it.