Device Health, the latest addition to the Windows Analytics, is now available. This new service that helps PC fleets reduce downtime and run efficiently was earlier released by Microsoft (in July 2017) for public preview. Now, at the onset of Creators update, Microsoft decided to bring one more useful feature especially if you are an IT administrator.
Device Health uses telemetry data to provide proactive insights to help detect and remediate end-user impacting issues without calling for any additional infrastructure requirements. Its general features include,
Identification of devices that crash frequently, thereby needing to be replaced or fixed
Identification of drivers that cause device crashes, thereby suggesting stable versions that do not crash or reduce the frequency of it
Notification of Windows Information Protection misconfigurations that send prompts to end users
Thanks to the cloud infrastructure using Windows 10 telemetry, there is no need for setting up a new infrastructure for using Device Health
Using Device Health in Windows Analytics
To start using Device Health, you first need to procure one of the following licenses in order to cover the set of devices that you want to be monitored,
Windows 10 Enterprise or Windows 10 Education per-device with active Software Assurance
Windows 10 Enterprise E3 or E5 per-device or per-user subscription (including Microsoft 365 F1, E3, or E5)
Windows 10 Education A3 or A5 (including Microsoft 365 Education A3 or A5)
Windows VDA E3 or E5 per-device or per-user subscription
As Microsoft says, there is no need to install Windows 10 Enterprise on a per-device basis, instead, you just need enough of the above licenses for the number of devices using Device Health.
How Device Health works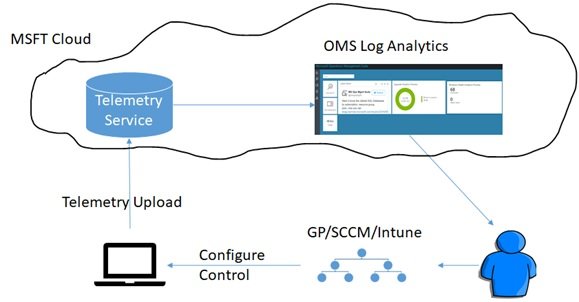 The data flow from your PC to Windows servers can be summarized into following 5 steps,
Your PC sends telemetry data to a secure Microsoft data center
Telemetry data is analyzed by the Microsoft Telemetry Service
Telemetry data is then pushed from the Microsoft Telemetry Service to your OMS workspace.
Telemetry data is now available in the Device Health solution.
You are now able to proactively monitor Device Health issues in your environment.
You should also note that Windows Analytics Device Health your PC would be sending enhanced level of Windows diagnostic data to Microsoft servers for analysis. Though, if you have the Creators Update, there is a new policy available for you to "Limit enhanced diagnostic data to the minimum required by Windows Analytics".