In Taipei at Computex 2018, we are seeing many devices and software innovations coming to life with new announcements every day. Today Microsoft took the stage and they announced Windows Collaboration Displays and Windows 10 IoT Core Services.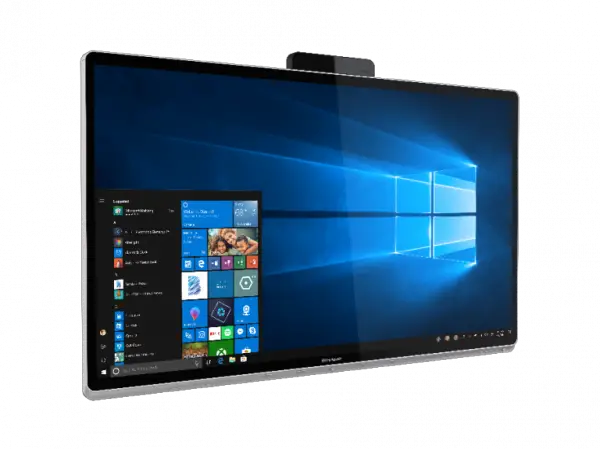 Windows Collaboration Displays
Windows Collaboration Displays are meant for meetings and meeting rooms. They are large, interactive displays which will help people in making great use of Microsoft 365 services like Office, Teams, and Whiteboard, etc.
All this will be powered by Windows 10 which is another service that comes under Microsoft 365. As mentioned by Microsoft, these displays will be well equipped with built-in sensors that can help the Windows Collaboration Displays in connecting to Azure IoT spatial intelligence capabilities. These new Azure IoT spatial intelligence capabilities will help in the handling of real-time decisions like cooling, heating and in booking rooms for meetings, etc.
Microsoft said that the first OEMs to build Windows Collaboration Displays will be Sharp and Avocor and these devices will be made available for the customers later this year.
Windows 10 IoT Core Services
Windows 10 IoT Core Services is a new service offering from Microsoft. This will enable partners to commercialize a secure IoT (Internet of Things)-device with industry-leading support. Eventually, with the help of these services, device makers will be able to manage the updates for the OS, apps, settings and OEM-specific files and that too with a support for 10 years.
Talking more about services powered by Azure, Nick Parker, Corporate Vice President of Consumer and Device Sales at Microsoft said,
Computer scientists at Microsoft have been working on AI technologies for decades. Thanks to the immense computing power of the Azure cloud, access to comprehensive and secure data spanning services such as Bing, Office and LinkedIn, and the AI breakthroughs coming out of our worldwide network of research labs, we are uniquely able to infuse AI into our core products and services. Beyond that we're delivering AI tools and frameworks including cognitive, vision, spatial and object APIs, and the recently announced Project Brainwave, an architecture for deep neural net processing on the edge – all of which partners can use to enable next-generation AI applications and solutions that run on devices.
We speculate that we will be seeing a great AI push with all the devices from Microsoft in the near future. You can read more about this here.
What do you think about this new strategy of Intelligent Cloud and Intelligent Edge of Microsoft?