A recent analysis by German Research Institute, AV-Test has revealed that Microsoft Windows Defender has improved considerably as an Antivirus program and even scores better than other popular Antivirus software in the market. It can no longer be considered as a baseline security solution.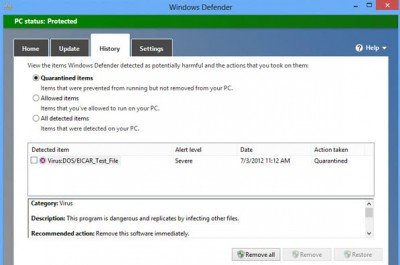 The result shows Microsoft Windows Defender 4.8 showing improvements in metrics such as Usability, Performance and Protection for Windows Home Users.
Windows Defender is a good Antivirus tool
Microsoft Windows Defender comes as a build in Antivirus software with Windows installation, however for years users have been relying on third party Antivirus applications to protect their PC's rather than relying on the default protection tool. But, this may not be applicable anymore.
AV-Test results show the AhnLab Internet Security, Comodo Internet Security, ESET Smart Security,  VIPRE Internet Security, Quick Heal Total Security and Panda Security scoring lesser than Microsoft Windows Defender 4.8.
AV-Test Institute rated Antivirus products on 3 metrics – protection, performance, and usability, allocating 6 points to each.
Here is what popular Antivirus Programs scored,
Avira, Bitdefender, Kaspersky: 18 / 18
Norton Security: 17 / 18
Microsoft Windows Defender: 15.5 / 18
F-Secure, G Data, K7, MicroWorld eScan: 15.5 / 18
AhnLab: 15 / 18
Panda Security: 14.5 / 18
Quick Heal Total Security: 13.5 / 18
Comodo Internet Security: 13 / 18
ESET Smart Security: 13 / 18
VIPRE Internet Security: 12 / 18
The above results on AV-Test show that only Avira, Bitdefender, Kaspersky and Norton score more points than Windows defender clearly indicating how Microsoft has beefed up the algorithm of its home production.
Interestingly, until now, performance of 3rd party Antivirus software was rated on how much they scored above the baseline where baseline was used to be Windows Defender's score. Now, with Microsoft scoring big, users may be tempted to keep using the default provided with the Windows or the 3rd party Antivirus vendors may have to improve their applications considerably.
Windows Defender can be considered to be sufficient and good enough for Windows 10.