Windows Defender AV has achieved a perfect score in the latest AVT Protection test. The test was performed in two months, namely November and December. The test results came out 100% in both Real World and Prevalent malware tests in December.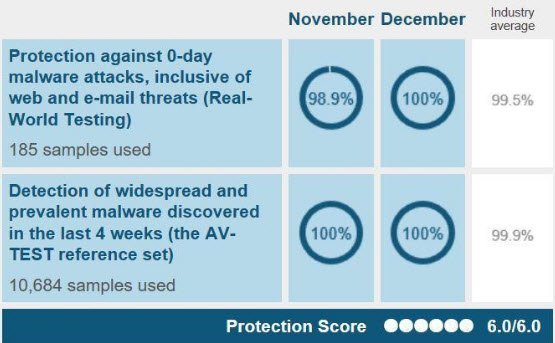 Windows Defender gets 100% at AVT Protection Test
AV Test, an independent IT-security institute mentions about this performance test.
"During November and December 2017 we continuously evaluated 20 home user security products using their default settings. We always used the most current publicly-available version of all products for the testing."
Durig the test, Windows devices were allowed to update themselves at any time and query their in-the-cloud services. During these changes, Windows Defender AV was tested for its performance to deal with these changes. Realistic test scenarios were chosen, and products were challenged against real-world threats. Windows Defender had to demonstrate its capabilities using all components and protection layers.
The AVT Protection test performed on Windows Defender AV was done in two parts. One of the parts was protection against 0-day malware attacks. This included web and e-mail threats. This test is also known as Real-World Testing. For this test, 185 samples were used. In November last year, the results of this test came out as 98.9%. However, in December, the results of the same test came out 100%.
The second part of the test was the detection of widespread and prevalent malware discovered in the last four weeks. This was the AV TEST reference set. The result for this test came out as 100% for both November and December. 10, 684 samples were used for this test.
Considering the results of both the Protection test, the industry average became 99.5% for real-world testing. While the same for AV TEST reference set is 99.9%.
The protection score for the protection test is 6.0 out of 6.0.
Visit av-test.org for the results of AVT Protection Test.