Any Windows user, facing challenges in the online world can receive quick emergency assistance from Windows Defender AV. The product offers flawless protection and its experts offer help against any real threat confronting security programs on the Internet.
A recent observation by AV-Test, an independent organization which evaluates and rates antivirus and security suite software for Microsoft Windows and Android operating systems makes it clear why Windows Defender Antivirus is the most deployed in an enterprise.
The report highlights, Windows Defender AV achieves 100% Protection scores across the board (Real world and Prevalent malware test modules) in both the Business User and Home User tests.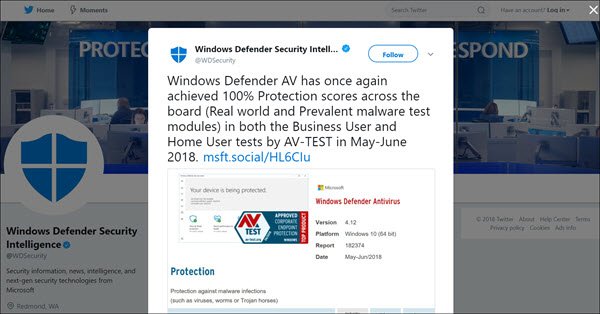 AV-TEST Product Review and Certification Report on Windows Defender AV
Windows Defender AV fared well against all meticulously designed tests: e.g. zero-day malware, drive-by attacks, downloads from websites, attacks via infected emails and many more.
During May and June 2018 we continuously evaluated 16 endpoint protection products using settings as provided by the vendor. We always used the most current publicly-available version of all products for the testing. They were allowed to update themselves at any time and query their in-the-cloud services. We focused on realistic test scenarios and challenged the products against real-world threats. Products had to demonstrate their capabilities using all components and protection layers, mentioned AV-TEST Product Review and Certification Report – May-Jun/2018
The team of experts at the AV-TEST laboratory carefully examined the utility of Windows Defender under realistic conditions. The data generated during the process was a representative image of the system performance, helping in a detailed comparison. Special attention was given to the events like 'Slowing-down' when launching popular websites, slower download of frequently-used programs, the launch of standard software programs, copying of files and more.
In addition to measuring protection and performance standards, the emphasis was also given to determine the problem-free use of the program. Windows Defender AV worked well for both, home and corporate environment and demonstrated capabilities of all its components perceptibly.