Advances in technology have enabled security researchers to build intelligent security software to protect the modern workplace. Microsoft too ensures that its customers have control over their devices and experiences from the latest threats. Its unified endpoint security platform, Windows Defender Advanced Threat Protection helps in the classification of the latest and most recent threats while Windows Defender AV helps in discarding malware by using a combination of techniques.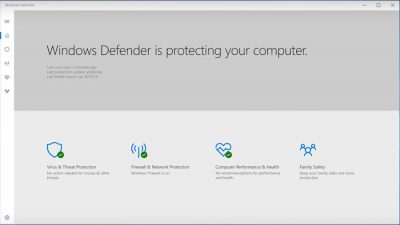 Windows Defender AV outscores its competitors in performance
Windows Defender AV detects and stops malware at first sight by using machine learning, artificial intelligence, behavioral analysis, and other advanced technologies.
The built-in antimalware solution has successfully managed to achieve high scores in independent tests consistently, showcasing its capability and why it remains a top choice in the antivirus market. Some of the certification reports testify this claim.
AV-TEST: Perfect protection score of 6.0/6.0 in the latest test
The AV-TEST Product Review and Certification Report mainly on realistic test scenarios and challenges any product it reviews against real-world threats. It lists the security rating of a product based on tests in three categories:
Protection
Performance
Usability
In the tests, Windows Defender AV achieved an overall Protection score of 6.0/6.0, with 5,105 malware samples tested.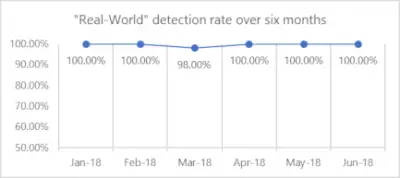 AV-Comparatives: Perfect protection rating of 100% in the latest test
The Austrian independent organization conducted its Malware Protection Test in March 2018 for Enterprises. This test, as defined by AV-Comparatives, tried to assess a security program's ability to protect a system against infection by malicious files before, during or after execution. Windows Defender AV managed to achieve a striking Protection Rate of 99.9%
Apart from the above, it is important to note that Windows Defender AV encounters ~200 million samples every month. Even with this vastness of the malware landscape, the antivirus assures the quality of protection against real-world threats.