Microsoft has launched a demo site demonstrating Windows defender features that allow users to test Windows Defender capabilities in real time. The demo site contains several Antivirus protection tests with built-in demonstration files and steps for users to test.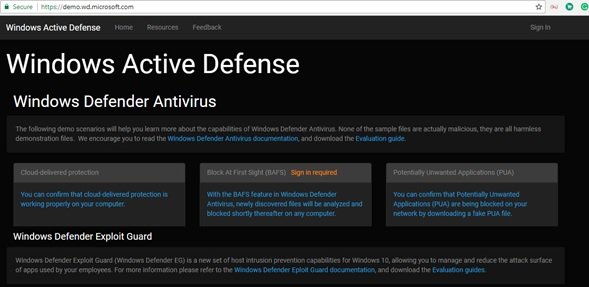 Test Windows Defender features online
As Microsoft says, the demo site is particularly useful for enterprise security administrators to determine the protection abilities of Windows Defender Antivirus from viruses, malware, and potentially unwanted applications. It explains the important features available for both small and large enterprises in Defender, and how they will increase malware detection and protection across the network.
Users can confirm the following features of Windows Defender by visiting the demo site,
Cloud-delivered protection
Fast learning (including Block at first sight)
Potentially unwanted application blocking
What all you test with Windows Defender features demo site
Cloud-delivered protection
Cloud-delivered protection for Windows Defender Antivirus, also referred to as Microsoft Advanced Protection Service (MAPS), provides users with strong, fast protection in addition to Microsoft's standard real-time protection. It is usually enabled by default; however, you may need to re-enable it if it has been disabled for some reason.
To test the effectiveness of Cloud-delivered protection, you just have to download a test file as demonstrated in the demo site and follow few steps.
Block at first sight
The BAFS feature in Windows Defender allows protection against new threats where it scans the newly discovered files and blocks them on any computer.
To test the effectiveness of BAFS feature, you must sign in first and after that follow the steps mentioned on the demo site.
Potentially Unwanted applications
The Potentially Unwanted Applications (PUA) protection feature in Windows Defender Antivirus can identify and block PUAs from downloading and installing on endpoints in your network. Although now not all applications are viruses, malware, or other types of threats, but they might perform actions on endpoints that adversely affect their performance or use.
To test the effectiveness of PUA, you just have to download a test file as demonstrated in the demo site and follow next steps.
Windows Defender Exploit Guard
Exploit Guard (Windows Defender EG) is a new set of host intrusion prevention capabilities for Windows 10, allowing you to manage and reduce the attack surface of apps used by your employees. Under this category, you can test the following-
Windows Defender SmartScreen
The SmartScreen Filter helps you identify reported phishing and malware websites and also helps you make informed decisions about downloads. SmartScreen is only available in Microsoft Edge and Internet Explorer browsers.
As Microsoft mentions, everything on the demo site starting from files to pages are for demonstration … nothing is actually malicious. So, you can test with safety. Click here to visit the Windows defender features demo site.