The Windows 10 Creators Update comes with a major update to Windows Defender.  Microsoft has announced that it would be developing a UWP (Universal Windows Platform) version for its security software – Windows Defender.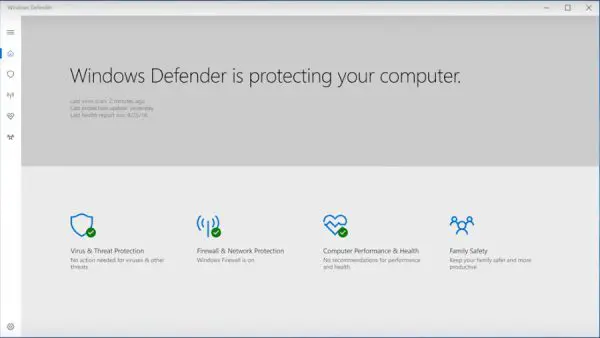 Windows Defender to integrate other services
Windows Defender might soon get a total overhaul from the age-old look of the 'Security Essentials' times to the upcoming touch-friendly UWP look. The new design will be minimalistic and fits right into the Windows 10 ecosystem, the way it is supposed to.
Apart from offering virus and threat protections, the updated Windows Defender will integrate itself with Windows Firewall & Network protection service, keep a watch on your computer Performance and Health and integrate itself with Family Safety, in effect making it a one-window software to manage your computers security.
Windows Defender was first launched with Windows 10 as a free software that helped detect and remove all kinds of malware from your system. It was later modified into a full-size antivirus program with the launch of Windows 8 in 2012.
Integration with Internet Explorer and Microsoft Edge enables files to be scanned as they are downloaded to detect malicious software inadvertently downloaded. Although it does not integrate with non-Microsoft web browsers, Windows Defender scans for malicious downloaded files as part of its real-time protection.