Microsoft has announced the release of a DVD Player app for Windows 10. All the Windows 7 users (Professional, Home Premium and Ultimate) and Windows 8/8.1 with Media Center Pack or Pro Pack users can get this new Windows DVD Player app after upgrading to Windows 10.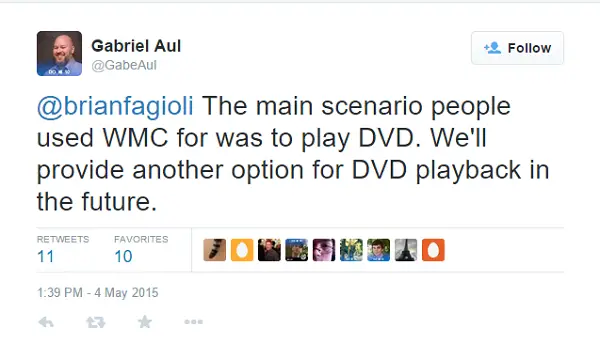 Windows DVD Player for Windows 10
Following the update, the free Windows DVD Player app will be automatically downloaded. If desired, the process can be speeded up by navigating to Settings from the Start menu, selecting Update & security, and then hitting Check for updates. A new update should be visible to you and begin to download.
The good thing, when you fire it up, Windows DVD Player automatically detects if you have a DVD inserted and then starts playing it back.
"The Windows DVD Player app is available free for a limited time for people running Windows 7 Home Premium, Professional, Ultimate, Windows 8, or Windows 8.1 with Windows Media Center. Please note that Windows Media Center isn't included in Windows 10 and will be removed when you upgrade to Windows 10. After the upgrade completes, Windows DVD Player will download automatically to your PC. To be eligible for the free DVD Player app, you must upgrade your Windows 7, Windows 8, or Windows 8.1 PC rather than perform a clean installation. If you're running an edition of Windows 7 or Windows 8 that doesn't include Media Center and you upgrade to Windows 10, go to Windows Store to buy Windows DVD Player or another app that plays DVDs. Provided your PC has an optical disc drive, Windows DVD Player will play DVD movies (but not Blu‑ray Discs)", reads the Microsoft Answers page.
Users looking to perform a clean install, or not eligible for the free download but still wanting to install the app can read this Microsoft Q&A page notes to know more.
Microsoft says Windows DVD player will be available for purchase in the Store. However, no pricing scheme has been disclosed yet.