Microsoft recently announced the general availability of Windows Embedded 8, extending Windows 8 technologies to a broader industrial interface and more edge devices. Windows Embedded 8 helps enterprises build up a solid platform to capture, analyze and act on valuable data across IT infrastructures and systems.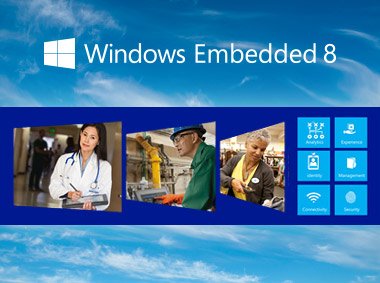 Windows Embedded 8 helps enterprises get the most out of Windows 8 technologies with additional features support including rich, natural experiences that provide customers and employees with access to the required informational the while ensuring its consistency and predictability. Businesses will also have the ability to add or buy enterprise-specific functionality for their Windows Embedded 8-based solutions through various licensing options that Microsoft intends to make available in July 2013.
"Edge devices connected and working in unison with an enterprise's broader IT infrastructure unleash the potential of the Internet of Things by yielding the actionable data and operational intelligence that drive businesses forward. From the rich, familiar experience of Windows to integrated management, analytics and cloud platforms, Windows Embedded 8 coupled with the full breadth of Microsoft technologies for intelligent systems helps enterprises gain lasting competitive advantages in retail, manufacturing, healthcare and a variety of industries." – Kevin Dallas, General Manager, Windows Embedded – Microsoft.
Windows Embedded 8 Standard and Windows Embedded 8 Pro are available immediately for OEMs to build and ship solutions — Microsoft has launched the Get Windows Embedded 8 portal to provide download access to the platforms. Windows Embedded 8 Industry will be available in the first week of April 2013.
The Get Windows Embedded 8 portal also contains a video series of panel discussions and other resources for enterprises and OEMs to help them take advantage of intelligent systems with Windows Embedded 8. The videos focus on three key industries with significant potential for intelligent systems — healthcare, retail and manufacturing.
http://youtu.be/X9Dg09HwYEA