Following the trend of adding more and more features through updates, Microsoft has now released the first Windows Feature Experience Pack to Insiders with the version code of 120.2212.1070.0, into the Operating System's Insider channel. If you have signed up for the Insider releases of Windows 10, you can download this feature pack now.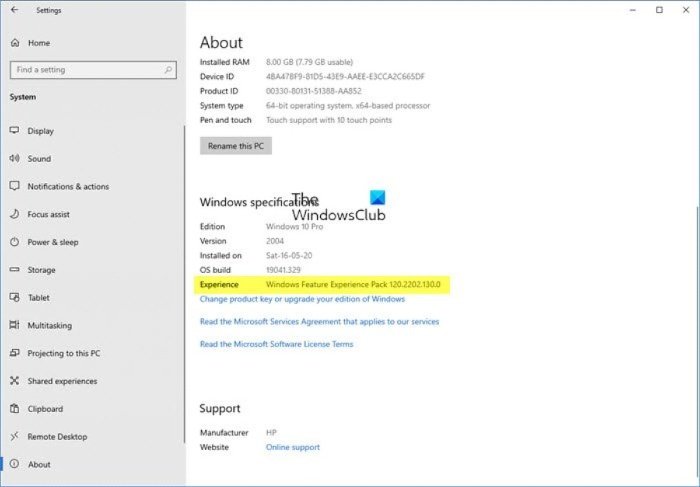 Windows Feature Experience Pack gets two features
"We are testing a new process for delivering new feature improvements to our customers outside of major Windows 10 feature updates. Through the Windows Feature Experience Pack, we can improve certain features and experiences that are now developed independently of the OS," said Brandon LeBlanc, Senior Program Manager, Microsoft.
Microsoft says that it aims to improve several features exclusive to Windows 10 through this type of update. Nevertheless, the tech conglomerate adds that this will be a gradual process, focusing on only a few features on a single pack.
In this particular case, Windows Feature Experience Pack 120.2212.1070.0 consists of two major features in the package. Firstly, this version now allows you to use the built-in screen snipping tool on Windows 10 and save the captured screenshot in a folder of your preference. This feature was added based on the feedback that Microsoft had received from the Insider community.
"Based on Insider feedback, you can now use the built-in screen snipping experience in Windows (WIN + SHIFT + S) to create a snip of your screen and paste it directly into a folder of your choice in File Explorer to save the screenshot there. Try it out!"

"Using the touch keyboard in a portrait posture on a 2-in-1 touch device now supports split keyboard mode."
Of course, you can use the default key combination to launch the feature. The second feature enables split keyboard mode on two-in-one devices that run on Windows 10. As you can see, both these features are not considerably prominent, and regular users may not even pay attention to these if not notified.
At the same time, these features make a massive difference to professionals who use these built-in features. For instance, the snipping tool after the Windows Feature Experience pack will now be as flexible as many third-party screenshot apps for Windows. Similarly, the overall usability of Windows 2-in-1 devices could be improved through the second feature.
Microsoft also added that the update would be rolled out just like the other updates Insiders receive on the Beta channel. However, they should have a Windows machine that is already running the 20H2 Build 19042.662. There are also options to check the new pack's status when you go to the About page.
The developer team has not mentioned when or if these features will come to the public release of the OS. However, if these features keep receiving good response from the Insider community, such a decision seems very likely.