Windows 10 is doing extremely well, but the same can't be said for Windows hardware. You see, PC sales have been hitting rock bottom for quite some time, and nothing changed in the third quarter of 2015.
According to the IDC, Windows PC sales has fallen by 11 percent, which is higher when compared to the same quarter back in 2014. This is hurting all Windows manufacturers, and it only means that these companies might have to decrease the amount of Windows related devices they manufacturer in favor of Android.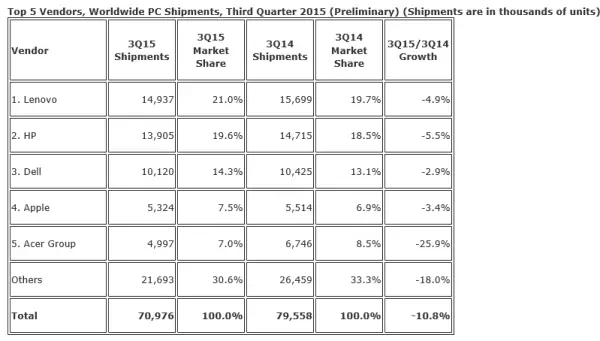 That's where consumer's mindset is today, but things can change quite quickly. The Surface Pro 4 and the Surface Book are probably the final saving grace of the PC sector right now, which is why Microsoft cannot afford for them to fail.
Microsoft first announced the first line of Surface devices back in 2012, and at the time, most folks saw it as a move of desperation, a move that will never work. However, fast forward into 2015 and Surface is a $3.5 billion business. Not only that, several Windows manufacturers have copied the design, so it is clear that Microsoft is doing something right.
Apple and Google have also copied the design of the Surface, and we see this transforming into a benefit to Microsoft in the months to come.
At the end of the day, Microsoft must prepare to venture down the road of making Windows hardware by its lonesome as partners begin to diversities their business. We expect that in the coming years, Microsoft might end up being the number one Windows-related hardware manufacturer, mainly because the software giant is making billions from Surface, and it will only want to make more.
Current manufacturers could be slowly forced out of the market as Microsoft becomes more like Apple with every passing day.