Microsoft has been criticized for allowing Windows 10 to open a tab in Opera, advertising itself when users browse the internet with the alternate browser Opera. The move has been criticized as it may indeed slow down the performance of users PC's and is a misstep by Microsoft. Microsoft Edge is safer than Google Chrome – says the ad.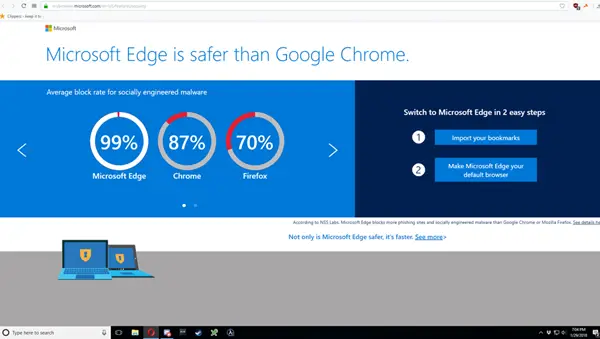 Windows 10 opens an Opera tab to advertise Edge
Users of the site Reddit were quick to pour scorn on the Redmond giant, with some insisting that it harks back to the days of Microsoft's lawsuits regarding its practices. In those days they also pushed their own browser on users – but in those days it was Internet Explorer that was the king of the browsers.
These days Microsoft's offering is dominated by Google's Chrome browser. The proliferation of mobile internet use has only added to Microsoft's browser woes, and now it appears that they have turned to guerrilla marketing to try and get users to come and try it's most recent browser.
Looking at the Reddit thread, there appears to be a lot of frustration with users such as Geek 55 saying,
"But why are they so desperate for people to use Edge? Surely the only reason for Edge to exist is so you can browse the web "out of the box"? The fact Microsoft care so much about whether you use Edge or not actually worries me, what's their motive?"
It is likely that Microsoft must be opening a new tab in the default browser and so Firefox or Chrome users may well be seeing them too.
Users queried the need for Microsoft to act in such an underhand manner when browsing is no longer a big part of its business. But the likelihood is that they want the valuable data that comes from users browsing histories to make money in a similar manner to Google. Google's AdWords pay per click offering makes up much of the company's revenue, and Microsoft wants some of that action. This is surely the only reason why they desperately want users to use their Edge browser.
Opting out of personalized ads is one way you can stop Windows 10 from showing you such ads.