Microsoft Windows Phone 10 is expected to be released somewhere around September 2015. The presenters in the Jan 21 2015 event had earlier made it clear that features will vary by devices. What we did not know – until WinHec Official Presentations – is that Microsoft is adding technology to detect physical actions on certain high-end Windows phone devices.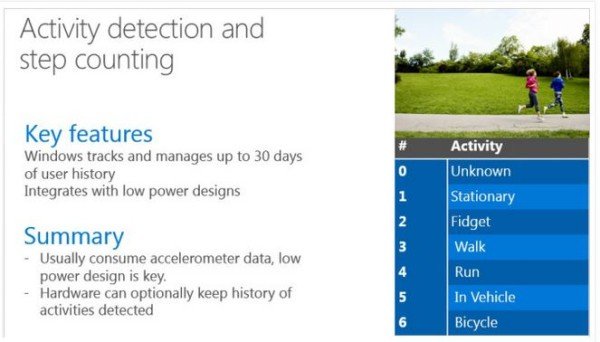 Windows Phone 10 Proximity Sensors
It sounds a bit difficult as phones will require special sensors but is true. A bunch of Windows Phone 10 testers are already using the features to test it out. It will be available to public when the Windows phone 10 operating system comes up as an update to current Windows 8.1 phones.
A good Windows Phone carrying Windows 10 will have features not only to detect your physical localities but also your physical activities. This will serve as a welcome feature for many who might be interested in wearables but would not want to spend on their extravagant costs. They can just get a good phone and use the physical tracking provided on Windows 10.
The physical activities system tracker will show you how much you walked, jogged, drove a car etc. The technology also intends to inform you of calories you used up in those activities. This is more like that wearables from Apple and even Microsoft band but instead of having a separate device, the feature will be built into high-end Windows Phone. So users can take it for a two in one at lesser costs compared to higher costs of wearables and having to deal with two devices. Of course, the new operating system will pair with Microsoft band to provide you with more information if you want.
These feature enabled Windows Phones will provide information on the following:
Barometer
Proximity (Human presence)
Custom sensors for temperature, humidity, UV exposure etc
Activity tracking
Altimeter to track the altitude from sea level
Pedometer
The physical activities will be triggered by proximity sensors that would first detect the presence of human. The proximity detector can detect human presence irrespective of where the phone is kept: in a purse, in top pockets, in back pockets etc. The features have been released to a group of testers using Windows phone 10 pre-release version and will be released along with the operating system when it comes for update late in the summer 2015