Net Applications have come up with their December 2012 data, revealing the market share of each mobile OS. The report shows that Windows Phones are still way behind Apple's iOS and Google's Android in terms of market share.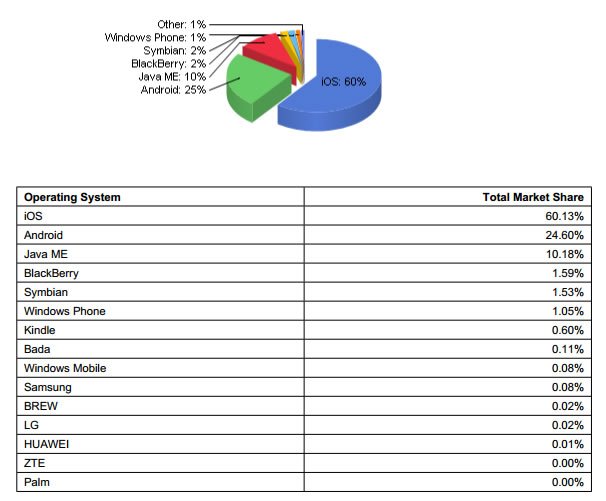 According to them Windows Phone only has 1.05% of the mobile market share which is way too less than Android which owns 24.60%.  iOS is dominating the market share with a big majority of share i.e. 60.13%.
Along with these the data shows that  BlackBerry owns 1.59% of the mobile market share while Java takes about 10.18%, indicating the fact that they still have a large proportion of market share than Windows Phones. Even Symbian phones with a market share of 1.53% are ahead of Windows Phones.
However there is some good news for Windows Phone fans as well.  iOS has dropped from 61.10% to 60.13% since the last report of November 2012 while the Windows Phone platform went from .90% to 1.05% in just one month.

Others include Kindle with a market share of 0.60%, Bada with 0.11%, Samsung with a market share of 0.08%, LG with 0.02% and others such as HUAWEI, ZTE, Palm have very less market share, says the Net Application Report.
Since the market share of Windows Phones is growing at a rapid rate and devices like Nokia Lumia 920 are doing very well in terms of selling, the picture might be very different in the upcoming months.