In the recently  concluded Mobile World Congress (MWC) 2015 , Microsoft announced many new partners bringing more new devices. It's all about mobility, in the technology industry today!  The most important thing for a mobile device to be always connected is mobile broadband (MBB) or specifically 36, 4G, LTE support. Microsoft provides incredible choice of MBB Windows devices ranging from smartphones, phablets, tablets, 2-in-1s, laptops from partners across the globe. And many more partners and their devices were announced at the Mobile World Congress 2015.
A broader, stronger ecosystem is good for everyone. Customers can count on a consistent Windows experience across any device, while having the ability to choose from a wide range of designs, sizes, price points, capabilities, services and solutions offered by our hardware partners.

The Windows Phone ecosystem keeps growing as new partners unveil more Windows phone devices. In the past year, Microsoft has worked with 25 partners to bring 31 Windows Phone models.
At MWC, a wave of new mobile broadband devices including phones, tablets and notebooks were unveiled. Microsoft is welcoming new partners with new devices on new networks with broader global coverage in every region as can be seen in this map of Windows Phone partners across the globe.
Let us check the new partners and devices announced :
British-based mobile partner KAZAM announced new Windows tablets and Phones. The KAZAM Thunder 450W and 450WL are the 2 new Windows Phone 8.1 smartphones.

XOLO from the Indian market announced Win Q1000

Cherry Mobile from Philippine have worked on their previous Windows Phone to bring next generation of devices like the 5″ Alpha Neon and 6″ Alpha View devices.

Microsoft has also partnered with the Chinese mobile phone manufacturer, K-touch to release 2 new Windows Phones – K-touch 5757A and K-touch E8.

Microsoft is also working with ODMs to expand the Windows device portfolio. An example of this is Coship Mobile which unveiled its first Windows Phone 8.1 device, the BVC X1. Microsoft will help facilitate connections between ODMs, OEMs and retailors to bring this device to market.

Another exciting announcement is from long-time partner Acer. Acer unveiled the Liquid M220 Windows Phone which will be available in the market in April.

Apart from Smartphones, Lenovo announced MIIX Windows Tablets for the European market.

Also HP revealed the new Spectre x360 and Spectre Pro x360. These devices bring the beauty of the Spectre line and the functionality of a 13.3" convertible PC together in one amazing device.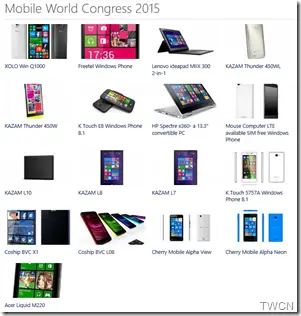 As Microsoft continues to work closely with its hardware partners to design and build devices across categories and price points, it's the customers who will get more choices as per their requirement.  It's great to see the continued device innovation across the Windows ecosystem.