The wait is over! Windows Server 2019 is here and is available in preview. The Microsoft Windows Server Team recently mentioned the launch of Windows Server 2019 in a blog. According to this blog, the new Windows Server will be generally available in the second half of the calendar year 2018. Users can access the preview build through the Insiders program.
Latest features in Windows Server 2019
So far Windows Server 2016 has been popular amongst the users. The latest Windows Server is based on Windows Server 2016, but with advanced features that are strongly associated with Hybrid, Security, Application Platform, and Hyper-converged infrastructure.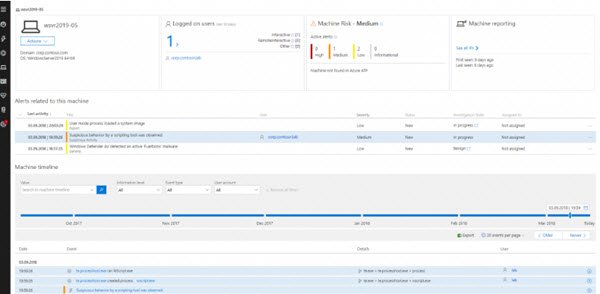 Its features are as follows:
Hybrid cloud scenarios: Most of the companies opt for hybrid approach when it comes to migrating to cloud. In Hybrid cloud approach, on-premises and cloud environments work together. The extension of datacenters currently includes extending Active Directory, synchronizing file servers, and backup in the cloud.
In September 2017 Windows announced the Technical Preview of Project Honolulu. Project Honolulu offers management of Windows and Windows Server. With Windows Server 2019 and Project Honolulu, customers will be able to easily integrate Azure services such as Azure Backup, Azure File Sync, disaster recovery, and much more. With this, users will be able to leverage these Azure services without disrupting their applications and infrastructure.
Security: Windows Server 2019 brings features in three areas namely, Protect, Detect and Respond when it comes to Security.
The Windows Server team mentions,
"On the Protect front, we introduced Shielded VMs in Windows Server 2016, which was enthusiastically received by our customers. Shielded VMs protect virtual machines (VM) from compromised or malicious administrators in the fabric so only VM admins can access it on known, healthy, and attested guarded fabric. In Windows Server 2019, Shielded VMs will now support Linux VMs."
Further in terms of Detect and Respond, the team mentions,
"On the Detect and Respond front, in Windows Server 2019, we are embedding Windows Defender Advanced Threat Protection (ATP) that provides preventative protection, detects attacks and zero-day exploits among other capabilities, into the operating system. This gives customers access to deep kernel and memory sensors, improving performance and anti-tampering, and enabling response actions on server machines."
Application Platform: In Windows Server 2019, the Server Core base container image will be reduced to a third of its current size of 5 GB. This will further reduce the download time of the image by 72%, further optimizing the development time and performance.
Hyper-converged infrastructure (HCI): In Windows Server 2019, HCI will get scale, performance, and reliability. The team is also adding the ability to manage HCI deployments in Project Honolulu, to simplify the management and day-to-day activities on HCI environments.
These are just some of the highlights for the latest Windows Server 2019.
For more details on this new server, read the blog on Windows Server Blog.