With the introduction of Windows 10, Windows Server will get more frequent feature updates. Due to this new model, users will be able to take advantage of the new features without any delay. This is highly useful for the users who build on containers and microservices, as well as in the software-defined data center. That is why Windows Server helps users deliver continuous innovation.
To make this service quicker, Windows Server will have two primary release channels; namely, the Long-term Servicing Channel, and the Semi-annual Channel. Out of these, the Windows Server Semi-annual Channel preview is arriving soon. Here is a glimpse at what the Windows Server Semi-annual Channel is all about.
What is Windows Server Semi-annual Channel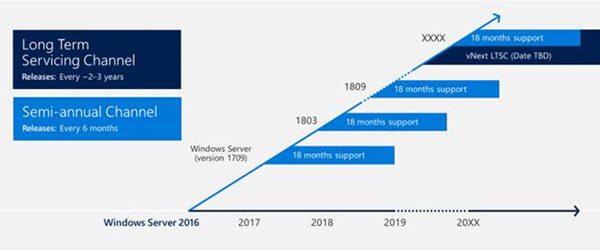 Both the Windows Server channels serve the model designed for similar release and servicing models for Windows 10 and Office 365 ProPlus.
Out of those, the Windows Server Semi-annual Channel releases will deliver new functionality to customers who are moving at a cloud cadence. These include the users on rapid development cycles or hosters keeping up with the latest Hyper-V investments. Windows Server products in the Semi-annual Channel will have new releases available twice a year; i.e. in spring and fall. Each release in this channel will be supported for 18 months from the initial release.
Besides this, the features introduced in the Windows Server Semi-annual Channel will also be introduced in the next Long-term Servicing Channel release of Windows Server. However, the content in these two channels may vary as per the feedback given by users.
As mentioned in the Microsoft Docs, the Semi-annual Channel will be available to volume-licensed customers with Software Assurance, as well as via the Azure Marketplace or other cloud/hosting service providers and loyalty programs such as MSDN.
In the new release model, the Windows Server releases are identified by the year and month of the release. For example, for the update that will be released in September 2017, the version will be identified as 1709. As the name suggests, the Semi-annual Channel will release semi-annually i.e. in fall and spring. Another release in March 2018 would be version 1803. The support lifecycle for each release is 18 months.
The regular previews will begin soon on the Windows Insider Program. Users can start following these steps to be ready for the releases.
Register for the Windows Insider Program.
Register a Windows 10 device with the Windows Insider Program – you will need this to provide feedback via the Feedback Hub App.
Watch the Windows Server blog for the announcement when previews begin later this summer.
For more information on Semi-annual Channel preview, read the Windows Server Blog.